Jesse Johnson becomes Campus Current's new editor-in-chief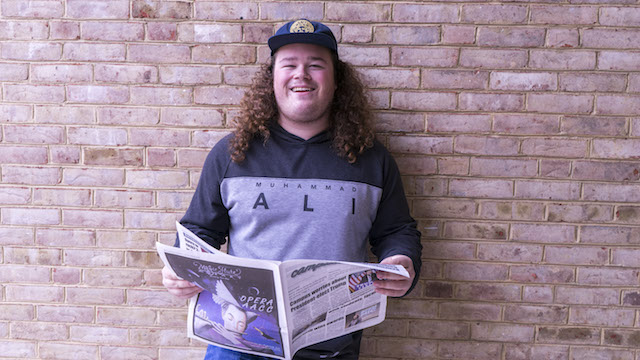 Brad Dress, Co-Editor
January 18, 2017
The 2016 associate editor for Campus Current will step into the editor-in-chief role this semester. 
Third-year student Jesse Johnson said the independent student newspaper, which comes out once a month in print and daily online, will focus more on social media and online news this semester.
 
Johnson also said he will write more about entertainment, recruit more staff members and make the paper more student centric.
"I'll move [the newspaper] up to where it is something that will be reckoned with," Johnson said.
Johnson said he started writing music and movie reviews for Campus Current as a freshman after he took a communications course in 2014.
In addition to writing, Johnson is the bass player with The Vibesmen, a local rock and reggae band.
The Student Government Association approved Johnson's promotion in December.
Because Campus Current is a student organization, the SGA funds it and approves its editor.
Sharon O'Malley, the newspaper's faculty adviser, called Johnson "a natural for the position. He's a great writer, reporter and editor. I'm sure he'll take the paper to the next level."
 
"I think Jesse is a very responsible guy," Britney Pieraldi, the photo editor and graphic designer, said. "I think he is very capable of [being] the editor-in-chief." 
Johnson replaced third-year student Cody Colston, who was editor-in-chief during the fall semester and oversaw the relaunch of Campus Current, which had been dormant for a year.
Colston called Johnson "dedicated" and said he will be a "success."
Colston stepped down in December to focus on work, grades and transferring to a four-year college in the fall.
 
Joining Johnson on the Campus Current staff this semester are Jacob Baumgart, the paper's new advertising manager, and Brad Dress, the new associate editor.