Unity Rally brings students together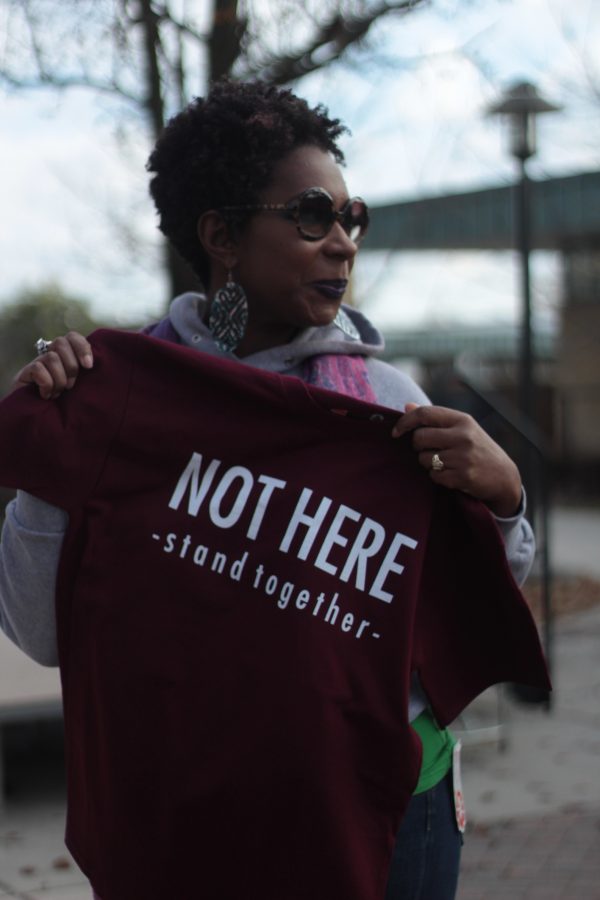 Tony Petro, Club News Editor
December 9, 2016
Students and faculty gathered in the quad outside the Humanities building Wednesday to participate in AACC's Unity Rally where everyone was encouraged to express their post-election feelings.
Dr. Nicole Williams, coordinator of the Human Services Department, started things off with a speech preaching peace and love and unity.
"There are some common core values that we should all go by regardless of political affiliation," Williams said. "Love, Respect and Compassion, among others. Students here on this campus should feel safe regardless of ethnicity, race and views. We should all feel safe and equal. Diversity is what makes us great."
Williams concluded her speech to a roar of applause and handed the microphone to sophomore Zachary Rosenthal.
Rosenthal leads the unofficial student organization, Campus Committee for Activists. CCA has been meeting daily in the Humanities building to express their post-election thoughts and how to properly deal with the results as well as brainstorm ways to eliminate violence and discrimination, which have been on the rise, Rosenthal said.
"AACC is our home and all of us standing together is what's important," Rosenthal said. "All the support you need to be who you are is right here. It's right on this campus. AACC Is a place of peace, love and acceptance."
AACC President Dawn Lindsey also attended the Rally and added to Rosenthal's comments when she said, "We here at AACC are striving to be an inclusive community."
Rosenthal concluded his speech by drawing upon the words of the Declaration of Independence, "Life, liberty and the pursuit of happiness is what we've been about and no one can take that from you."
The audience erupted into shouts of approval and applause for the sophomore activist. CCA members began handing out shirts with "NOT HERE!" printed on the front. They ran out, but more will be on sale when the next order arrives.
Matt Donton, a sophomore and member of CCA, said he has class with Rosenthal and decided to join the group after discussing the election results and talking in length with Rosenthal about how everyone would fare.
"We want to advocate and show support for everyone," Donton said. "White, heterosexual and the more privileged people of the US should show their support for those in need, even if they're not affected."
CCA is currently undergoing the process to become an official AACC student organization.