Male former admin sues AACC; claims gender discrimination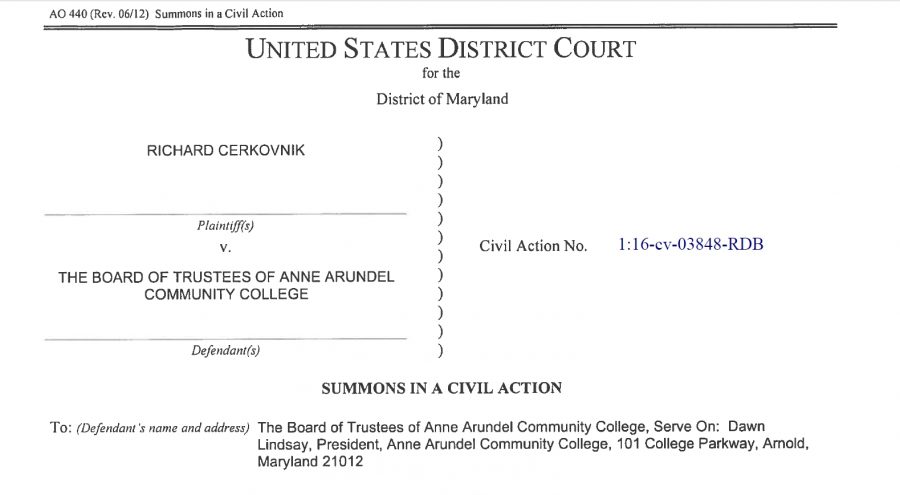 Cody Colston and Jesse Johnson, Editor-In-Chief and Associate Editor
December 7, 2016
A former AACC administrator sued the college's Board of Trustees for nearly $2.4 million on Nov. 30, claiming the school discriminated against him because he is a man.
Dr. Richard Cerkovnik, a former special assistant to the vice president for learning and the former chair of the Physical Science Department, filed suit in U.S. District Court, saying the college's "preference for only female leaders resulted in [his] being denied promotions based solely on his gender."
In court papers obtained by Campus Current, Cerkovnik claimed that at one time, all 12 senior administrators, including the AACC president and the school's three vice presidents, were women. In addition, he said in his lawsuit, all 10 deans were women.
When Cerkovnik was tapped to lead the National STEM Consortium, AACC leaders refused to relieve him of other duties despite a requirement of a federal grant, according to the complaint.
Cerkovnik said he complained to AACC President Dawn Lindsay and a vice president, and "was subjected to … retaliation from the college," the document said.
Cerkovnik also claimed "less-qualified white female candidates" were appointed to higher positions he had applied for.
Cerkovnik worked at AACC from 1989 until 2015, and is now the director of the Montgomery College STEM initiative.
AACC Legal Counsel Martin J. Snider was not immediately available for comment. Neither Cerkovnik nor his attorney was available for comment on Tuesday.