Santa comes to campus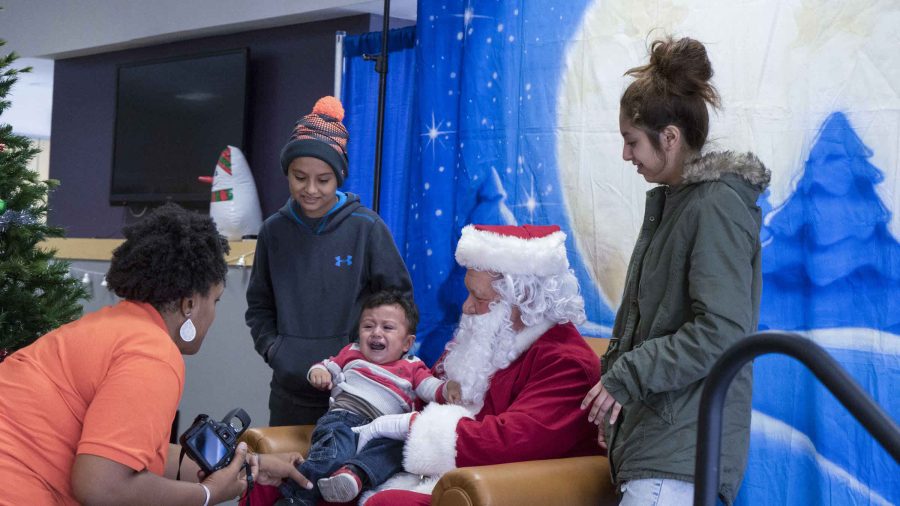 Brad Dress, Reporter
December 5, 2016
AACC brought local community, faculty and staff together with various crafts and food for a breakfast with Santa on Saturday.
In the Student Union Dining Room from 10 a.m. to 12 p.m., Campus Activities Board hosted Breakfast with Santa. The event was open to anyone who registered before the Nov. 23 deadline.
In the event, there were four sections comprised of tables and chairs formed in a square. Each section had a CAB member hosting it with different arts and craft stations: wooden ornaments to color, pop-out mugs to color, foam frames to put together and foam characters to play with.
"It's fun for the kids," Trish Eyerly, a staff member at the college and also a mother of two, said. "Just a really nice atmosphere for the children to play in."
A table was lined in the back towards the Hawk's Nest and Dining Grill, laden with assortments of foods for kids and adults alike— muffins, tarts, cinnamon rolls and orange juice for a drink.
Santa, a volunteer from the community, came down around 10:20 a.m. and sat in a sofa chair next to a Christmas tree towards the back of the dining room. Children lined up with their parents to sit and talk to Santa until 12 p.m.
"We try to accommodate most ages," Emily Sunnucks, the CAB Homegrown Chair, said. Sunnucks works with CAB to bring in outside participation, like the community. She organized the event along with Student Engagement Specialist Leslie Cook.
Breakfast with Santa has been on the campus for approximately eight years. CAB hosts the event around the same time every year. Last year, according to Sunnucks, they had a reported 200 people come to the event – this year, the number was closer to 300.
"I like the event because there is fun crafts and yummy food," Ketzel Barbour, an 11-year-old attending the event, said. "We come here pretty much every year."