AACC Rallies in Support of Maryland's Most Charming City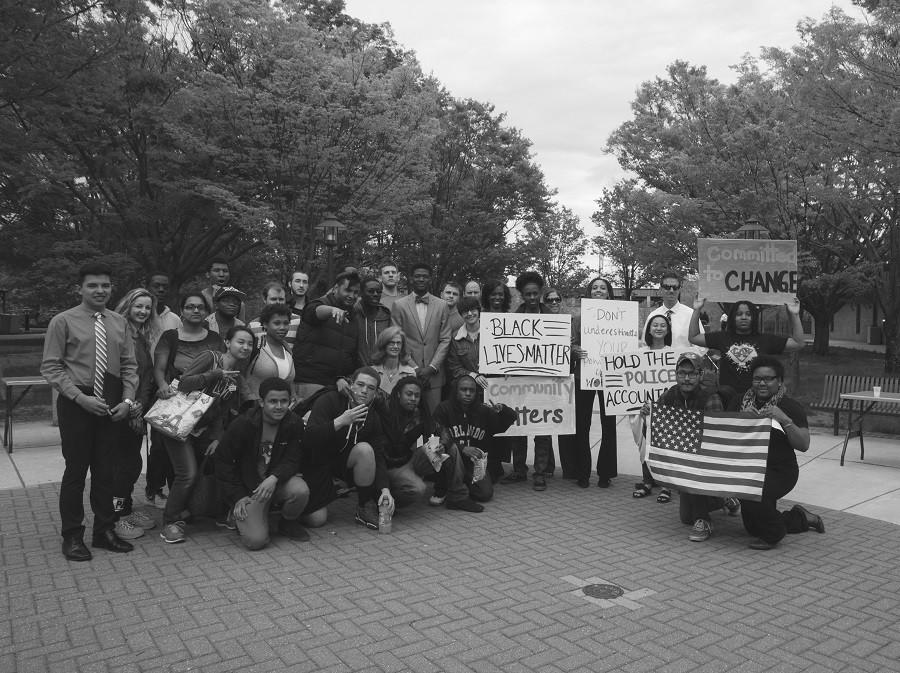 With protest signs in hand, students at AACC gathered on the Quad at noon on May 1 to protest social injustice and promote peace in Baltimore and our college community.
AACC's Campus Activities Board, in partnership with student activists, organized a peaceful protest in solidarity with the citizens of Baltimore after the death of 25-year-old Freddie Gray. Speakers for the event included professors, administrators and students as well.
"This campus is very diverse," says Jaylen Dees, student organizer at AACC. "We all need to come together as one to bring an end to police brutality."
In response to the death of Freddie Gray, peaceful protests emerged all over Baltimore city in opposition to police brutality. According to state prosecutor Marilyn Mosby, Gray suffered "a severe and critical neck injury" while being transported "handcuffed, shackled by his feet and unrestrained" inside a police van. It is against police policy to transport a prisoner without proper restraints such as a seat belt.
Over 50 students gathered on the Quad, holding signs that read: "Hold Police Accountable", "Black Lives Matter", and other rallying cries. Speakers and organizers stressed the importance of peace and nonviolence.
"Conflict is inevitable," says James Felton, chief diversity officer and one of the speakers at the event, quoting Martin Luther King Jr. "But it must be reconciled peacefully."
Felton urged the crowd to think about a few things in the aftermath of the uprising in Baltimore. He wanted students to take action against oppressive systems and realize that ignoring the issue will contribute to the problem.
Suzanne Spoor, English professor and facilitator of the Year of Social Justice at AACC, took her time at the podium to share a few quotes from interviews of people during the Rodney King riots in 1992. Through sharing different points of view, Spoor implored students to read beyond the headlines they see in the news, and be open to different voices within their community.
"I wanted to make sure we heard one voice of a police officer," says Spoor. "I wanted to share the voice of a victim of police brutality, and I wanted to end on a note of hope."
All of the speakers at the event also stressed the need for a strong sense of community on our campus, as well as in Baltimore.
"We have to keep having rallies like this," says Jahveel Davis, a nursing major who attended the protest. "We need to gather people from all different communities and unify."
Protestors at AACC's rally included younger people as well as administrators and faculty. Among them was Cleveland Smith, deputy director of Public Safety and Police at AACC.
"While the circumstances are unfortunate, this is a life-learning experience," says Smith. "I think in the future, when there are other events that affect the community, we will do the same thing so people can have their questions answered."
AACC's SGA president Chris Pineda concluded the protest on a positive note.
"We are one student body, one community," said Pineda.