Student Athlete of the Month Nicole Cox has a Sharp Eye for a Good Hit
Justin Smith, Reporter
April 10, 2015
Hang on for a minute...we're trying to find some more stories you might like.
Freshman softball player Nicole Cox was named National Junior College Athletic Association player of the week for March 16-22 and is now being named AACC student athlete of the month.
"Ms. Cox is a talented freshman who has already made major contributions to our program," said director of Athletics Duane Herr. "She earned player-of-the-week recognition for NJCAA Division III which is no easy task. I am eager to see what else she can accomplish in the remainder of the season."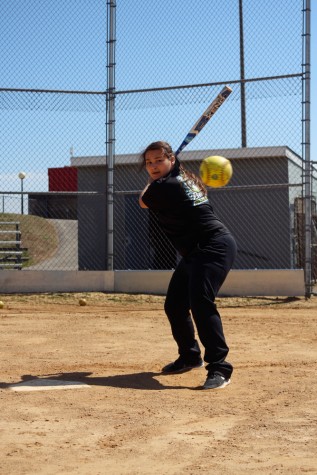 Cox bats in the heart of the lineup and is currently leading the team in batting average, home runs and RBIs. She has four home runs and a batting average of .571. Both stats have her ranked fourth in the conference. Her approach to the plate has helped her reach these marks.
"I just hit," said Cox. "They throw it down there and I just hit. I look for a certain pitch and I just drive it."
Her coaches also love her hitting.
"Obviously she's a really good hitter, as she just cranked out three home runs in practice today," said assistant coach Brittany Biermann. But she's more than just a hitter.
Cox is also a team captain and a leader. She was named one of the team captains before the season for how she handled going about her softball business.
"We definitely saw a lot of potential in her 'cause she stepped up on her own, as did London and Jordan." said Biermann. "They all stepped up as leaders, and we just put in place what we were already seeing."
When it comes to the type of leader though, she's both vocal and leads by example.
"I don't really see one more than the other," said Biermann. "I see that she leads the team vocally, then backs that up by doing all of the things that she encourages the team to do such as hustling all of the time and staying focused."
That leadership goes beyond the field as well.
"Teammates should hold each other accountable in every way possible on the field and academically," said Biermann.
Off the field, Cox is working on a Veterinarian Studies degree. Cox mentioned her favorite animals are aquatic animals, but she's a dog person. When it comes to balancing athletics and school, Cox credits time management as her biggest helper.
"[I'm] taking advantage of any free time that I have to do school work," said Cox.
"And if I don't have any school work then I get out on the field and do stuff, like batting or fielding."
These qualities, plus her softball stats, led her to being this month's Student Athlete of the Month.