Award-winning poet Le Hinton will be coming to AACC
Award-winning poet Le Hinton will be coming to AACC on Feb. 19.
"He's won a number of awards and he has been published in The Best American Poetry, which is a great honor," said Susan Cohen, professor of English, coordinator of creative writing.
Hinton was published in the 2014 edition of The Best American Poetry anthology, the Cooking Up South anthology, and has published five collections of poetry.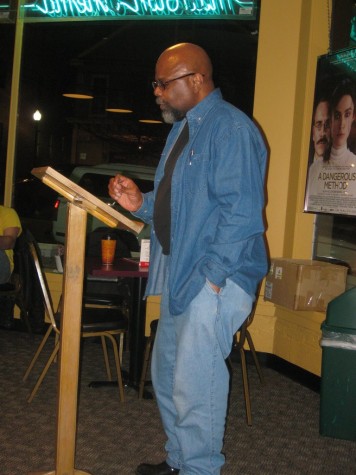 In addition, one of Hinton's poems was chosen by the Pennsylvania Center for the Book's Public Poetry Project out of four poems by Pennsylvania poets. His poem has been made into posters and displayed around the state.
"I'm not usually a big poetry fan, but Le Hinton is actually really good," said Sam Tappa, a student at AACC studying in creative writing, English, and education. "Most of his poems have strong metaphors and human emotions, especially his poem 'Epidemic', which is about his grandmother and the Spanish flu."
Tappa was chosen by Cohen to be the student that introduced Hinton to the crowd.
Hinton's poem "Epidemic" was the winner of the Baltimore Review's 2013 Winter Issue contest.
Along with writing poetry, he is also the editor of the literary journals Iris G. Press and the I. Giraffe Press.
"Some poets write by themselves because it can be that kind of a world where you need that intense alone time, but I think he's been very [great at] helping other poets find their voice," said Cohen.
A part of Poetry Paths' project in 2012, Hinton's poem, "Our Ballpark", was included in Derek Parker's sculpture Common Thread and installed at the Clipper
Magazine Stadium in Lancaster.
"I think he offers our students a really good perspective in terms of writing poetry and also thinking about culture," said Cohen.
Hinton will be coming to AACC on Feb. 19 from 2 to 3:15 p.m. in Hum 112 to read his poems to attendees.
"When I was watching him read his poetry [via the Internet], I felt like I wanted to write a poem myself," said Tappa.
For more information about Hinton, visit his website: www.lehinton.com.