Guerrilla Art: An Urban Movement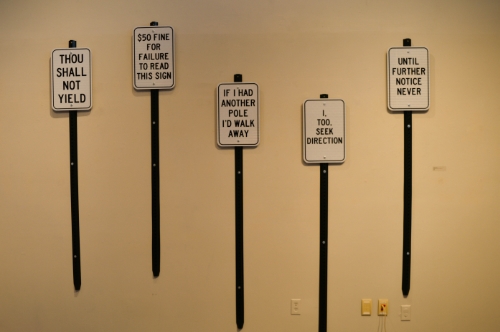 Miguel Valarino, Reporter/Photographer
November 25, 2014
Anne Arundel Community College is having a national juried Guerrilla Art show in the Cade Art Gallery until Dec. 12.
The juror for this show was Lisa Gold, executive director of Washington Project for the Arts.
Guerrilla is "an urban art movement… [where] the artwork intrudes into the viewer's space and then it makes you pause and think about the message and the work," according to Lindsay McCulloch, associate professor of Visual Arts and Director of the gallery.
Guerrilla art can have a political comment on social justice or it can be humorous. With the theme of the year being social justice, AACC decided to take this art form, which is usually presented in the environment, and display it in the Cade gallery so the artists' ideas could reach younger audiences.
"There's a piece in the show by Maya Pindyck that's about abortion and is this little post-it notes that she encourages people to take with them and then repost somewhere else out in the environment," said McCulloch.
For more information on the Cade gallery's exhibitions, please visit: http://www.aacc.edu/cadegallery/exhibitschedule.cfm.