Where Are They Now: Alex Scarselletta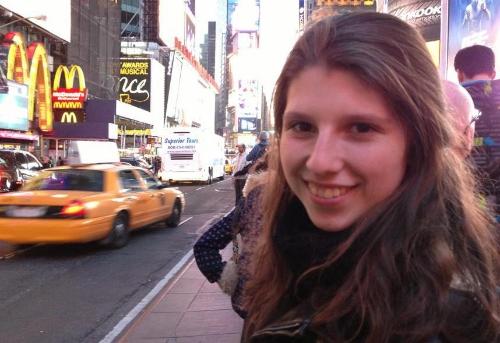 Miguel Valarino, Reporter/Photographer
November 25, 2014
Hang on for a minute...we're trying to find some more stories you might like.
Alex Scarselletta graduated from AACC as a transfer student with a concentration in biology. She has a passion for musicals and she enjoys singing every time she can. At AACC she was part of the cast of Bloody Bloody Andrew Jackson and The Best Christmas Pageant Ever.
How old are you?
I'm 20.
What school are you attending currently?
UMBC… Go Retrievers!
What are you studying there?
I am working towards a Bachelors of Science in Biology and hope to finish by the end of next year. Also, I want to focus on Marine Biology.
What year did you graduate from AACC?
Spring 2014
What did you enjoy the most about AACC?
I enjoyed the people. I enjoyed being on the soccer team there, that was cool. At first I thought I was going to hate it there, but the girls were great. For any activity I was involved in on campus, the people were very accepting and sweet.
Was there any group in specific you liked the most?
I loved theatre because the people were as crazy as me. They were wacky, wet and wild (laughter). But I enjoyed being on stage and the singing aspect of the theatre production. Any chance I got to be involved with music I had a lot of fun.
What do you like about UMBC?
The professors have your best interest at heart. They want you to succeed. The campus is easy to navigate and there are a lot of opportunities for kids to get involved with on campus activities.
Are you in any clubs at UMBC?
I continued my pattern. I'm doing theatre here and I joined the a cappella group. I also founded a club with my friend in which we volunteer at local animal shelters and wildlife sanctuaries.
We've learned that you're a singer. Is there any type of songs you prefer to sing? Pop or rock. Some of the artists I like are Maroon 5, The Beatles, Journey and Steve Miller Band. Actually, the top forty billboard songs… Whatever's popular or on the radio.
From the bands you mentioned, have you been to any of their concerts?
I went to a Maroon 5 concert a couple of years ago and for my sixteenth birthday I went to see Paul McCartney and it was aca-awesome.