Women's Basketball Team Loses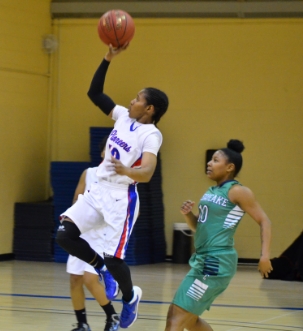 Caroline Carl, Guest Reporter
November 25, 2014
Hang on for a minute...we're trying to find some more stories you might like.
Anne Arundel Community College's women's basketball team suffered a 101-49 loss at their home game against Chesapeake College on Wednesday night.
For both teams it was the first conference game of the season. Chesapeake entered with a four-game winning streak and AACC 1-2.
Throughout the game Chesapeake had a significant lead.
The first half of the game started slowly for AACC, which didn't score its first basket until 16:37, while Chesapeake was at 10 points.
The rest of the first half continued at this rate and the half-time score was 44-23, Chesapeake ahead by more than double AACC's points.
During the first half, only five of AACC players made baskets: sophomore Tiffany McKinney, sophomore Alexandra Boone, freshman April Smith and freshman Alexxis Evans.
Of the 23 points, McKinney scored more than half. By the end of the game she was the only AACC player in double figures, with 19 points.
"We didn't play much as a team, so we need to work on the fundamentals and stuff," said McKinney. "Like boxing out and getting back on defense. Other than that we had an OK kind of game."
The second half was a grisly sight for AACC.
As in the first half, Chesapeake maintained a score of more than double that of the home team.
With 6.9 seconds left on the clock Chesapeake sophomore Natesha Riley scored a 3-pointer and, breaking 100 points, ended the game 101-49.
Two games prior, Chesapeake women's basketball team set a school record of 101 points during their match against Harcum College.
"Team chemistry is important," said Chesapeake's head coach Gwen Barnes.
"If you don' t have chemistry you're not going to win. They get that. They play to each other's strengths."
AACC head coach Lionel Makell calls Chesapeake, which for the last four years has played in the NJCAA championship games, an "A school."
"You can't play a B game with an A school and expect to win," Makell said.