Hope N' Mic Night
AACC's To Write Love on her Arms will be hosting Hope N' Mic Night on Nov. 21 from 7 to 10 p.m. in Humanities 112.
To Write Love on Her Arms, otherwise known as TWLOHA, is a national non-profit organization based in Melbourne, Fla. that was founded in 2006 by Jamie Tworkowski.
The focus of TWLOHA's Hope n' Mic is to, "spread the message of hope," said Erin Butcher, co-president of AACC's TWLOHA.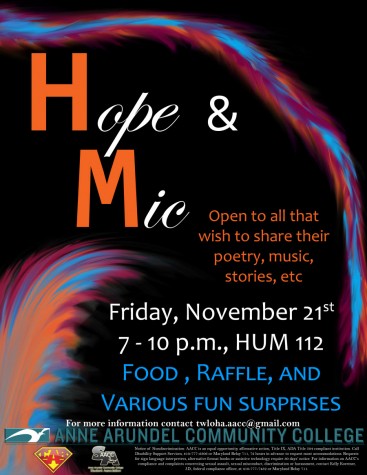 "We are going to be using the platform of Hope N' Mic Night to promote what TWLOHA'S message is," she said.
TWLOHA aims to, "raise awareness for those suffering from depression, addiction, self-injury and suicide," said Tori Burgamy, co-president of TWLOHA. "Its goal is to change the conversation about suicide. Its message is hope."
TWLOHA is hoping for a good turn out. The open mic night is free of charge. "It's going to be a relaxed environment," they said. "There's not really a rigid structure. We just want everyone to come out and share."
There will be snacks made available to attendees as well as collectables that students can purchase like key chains and gift certificates from local business.
"It's going to be a fun night," Butcher and Burgamy said.