AACC installs new fresh-food vending machine in CALT
AACC installed a new fresh-food vending machine in the atrium of the CALT building over spring break.
The machine, operated by Washington-based Wellfound Foods, serves ready-made, refrigerated meals such as sandwiches, wraps, rice bowls and yogurt.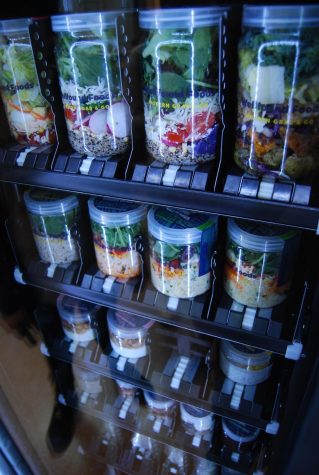 Event Services Manager Peter Kaiser said the college added the machine to give more food options to people on West Campus.
"There's not going to be enough business to do a full operation that is manned and staffed, but there are enough people over there that need to eat," Kaiser, who oversees the college's dining services, said. "And so we said, 'Let's see if this machine's going to work.''
AACC has one other fresh-food kiosk, operated by Farmer's Fridge, a different company, in the Health and Life Sciences building. A second Farmer's Fridge machine on the second floor of Careers operated during the fall semester, but Farmer's Fridge removed it at the beginning of the spring semester.
Kaiser added once the renovations of the Florestano building are complete, the college could potentially open a full-service dining option on West Campus.
The college's three dining options, Chick-fil-A, Subway and the Hawk's Nest, are all located on East Campus.
Some students said the fresh-food vending machine adds more food choices.
"I think it's a new and interesting option for students," first-year cybersecurity student Malcolm Huntley said.