Students write supportive messages at awareness event
Students wrote supportive messages for sexual assault victims on a banner at an event hosted by the Health and Wellness Center on Wednesday. 
The event was part of a series of three events for Sexual Assault Awareness Month, which spans the month of April. The center will host one more event for the series, called "Take Back the Night," on April 26. 
Katie Keys, the project director for sexual violence prevention at AACC, said she created the event to "make sure that everyone knows that we're trying to create a culture of consent and respect on campus."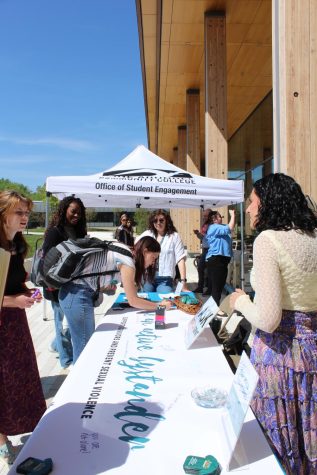 The banner will be displayed in the Student Union building.
"It can be really impactful, really powerful to hear, like, 'We believe you, you're not crazy, your voice matters, we're here for you,'" Keys said. "It's really encouraging that active engagement."
Adeline Smith, a first-year transfer studies student, said she enjoyed the event.  
"I think it is amazing that they're doing that," Smith said. "I think it's good that they're bringing awareness and, you know, bringing the community together in a way that we talked about these things."
Beryl Kilonzo, a third-year nursing student, agreed, saying she thought the event was "amazing." 
"I feel like a lot of people don't get the platform to express themselves without judgment," Kilonzo said.