NASA assistant director speaks on women in astrophysics
An assistant director at NASA spoke to students and faculty on Tuesday about the history of women in astrophysics.  
Michelle Thaller, an astrophysicist and assistant director of science communications at NASA, shared the challenges and unequal treatment she and other women in history had to face in the field of science. 
"You were certainly expected to behave and be comfortable with a very confrontational style of learning and teaching, and I was not comfortable with that," Thaller, who has a bachelor's degree from Harvard University and a PhD from Georgia State University, said.
Thaller shared the story of Jocelyn Bell Burnell, a radio astronomer and graduate student who discovered and predicted pulsars in 1967. 
"Which should have put her up for a Nobel Prize, but she was a graduate student and a woman," Thaller said. "In fact, her thesis adviser, a man, got the Nobel Prize." 
Students said they enjoyed learning about important women in science.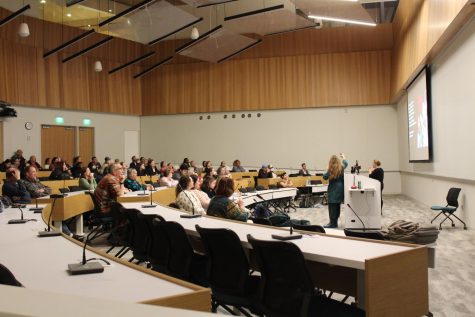 "It was really nice to just learn about all the different women in, like, astronomy and astrophysics that we don't know about," Sara Nimmo, a second-year information systems student said. "I had never heard of any of those people."
Lillian Cross, a first-year transfer studies student, agreed. 
"I actually thought she was really interesting and had a lot of interesting stories and insights to talk about," Cross said. 
Thaller also talked about stars, magnetic fields and topics related to astrophysics. 
Erik Binnix, a second-year transfer studies student, said he learned a lot about science. 
"I really liked the facts about, like, the sheer scale of how dense and intense the gravity is and how large stars can be," Binnix said. "In particular, the neutron stars, how they're actually not that big and they are so ridiculously dense and have such an incredible gravity."