Students get massages, pet service dogs at stress-relief event
AACC students got massages, spent time with service dogs, ate free food and made small bottles of scented oils in a stress-relief event yesterday. 
Health and Wellness Center nurse Stephanie Jenkins, who partnered with the Student Government Association to coordinate the semi-annual Stress Less Festival, said the event helped teach relaxation methods in preparation for upcoming final exams.
The point was to "offer students and staff some stress management and reduction techniques and strategies especially with the end of the semester and finals coming," Jenkins said. 
Student Government Association President Abigail Billovits-Hayes agreed.
"Finals week … can be stressful," Billovits-Hayes, a third-year psychology student, said. "So it's good to find time to manage that to be a successful student."
The festivities also included building homemade stress balls by filling balloons with cornstarch and water, as well as visiting information tables promoting student services, including the Military and Veterans Resource Center, campus food pantry and mental health counseling. 
First-year humanities student Ariel Webster said the best part of the event was spending time with the service dogs from the nonprofit Pets on Wheels.
"Dogs are the best therapy in the world." Webster said. "You just pet a dog for 10 minutes and you're just so much calmer."
Webster went on to say events such as these help "destigmatize" mental health, and commended the college for spreading awareness about stress and anxiety.
The biggest benefit for students is getting "the chance to realize you're not alone," Webster said. "So many people suffer with anxiety [and] depression. … Knowing that you're not alone, that there are other people all around you, maybe even your classmates, that feel the same way, it makes you feel less isolated, less lost."
First-year premedical student Mahnoor Ali, who staffed the stress ball craft table, said she enjoyed "helping students and guiding them through the process."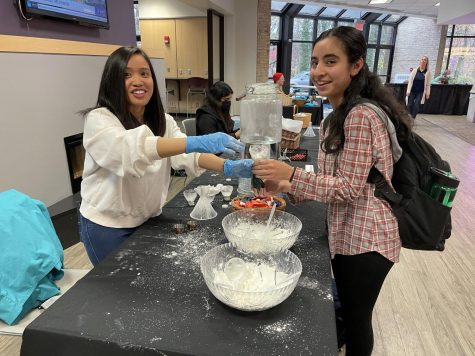 "Especially with finals approaching, it's very necessary for students to refresh with therapy dogs, massage chairs and lots of other stuff," Ali said, adding the event gives students the opportunity to "go social again, like it's a post COVID-19 time."
Second-year game design student Ian Middleton agreed.
"I'm constantly stressing about classes and attending events like this with friends and stuff," Middleton said. "It's a good way to distract myself from all that."