Adjunct professor loses bid for delegate seat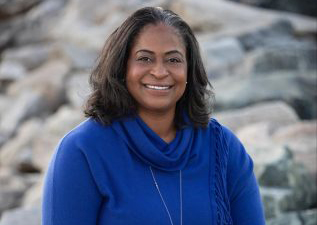 An adjunct communications professor lost her bid for a seat in the Maryland House of Delegates race this month.
Democrat Courtney Buiniskis, who represents AACC's part-time faculty on the college's The Faculty Organization, trailed Republican incumbent Seth Howard by 2,430 votes by the time the Anne Arundel County Board of Elections published the official tally this week.
Buiniskis won 43.25% of votes from residents of District 30B, while Howard tallied 56.72%.
Still, Buiniskis, a first-time candidate, said she feels "great" about her campaign and is grateful for the "influence" her effort had on the residents of southern Anne Arundel County.
"I put myself out there for other people to see that it is possible for a normal person to run for office," Buiniskis, a 2008 AACC graduate, said. "There were times where I was frustrated [and] angry … but it was never rock bottom. I don't even roll that way."
Buiniskis, the first black candidate in her district to run for delegate, said overcoming racism was one of the challenges for her campaign, saying she saw Confederate flags and racist artwork while knocking on doors.
"Does that sting a little bit? Yeah, … but it never deters me," Buiniskis said. "My mother is from the Civil Rights era. I was told, 'You don't sit in the back of the bus. You stand up for what you believe in.'"
Nevertheless, Buiniskis said her campaign was mostly a positive experience. The highlight, she noted, was a Fourth of July parade last summer. Buiniskis said she had to hold back tears as the crowd of 35 chanted her name while wearing "Courtney Buiniskis for delegate" T-shirts.
Buiniskis said running for office taught her that candidates have to be adaptable and resilient.
"It's shifting and pivoting and finding out your strengths and your weaknesses," Buiniskis said.