Creative writing director reflects on time at AACC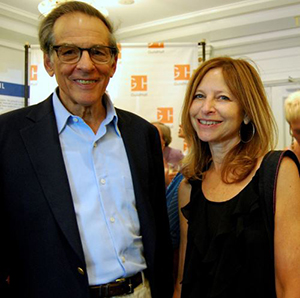 Editors and alumni of AACC's student literary magazine held a surprise retirement party to celebrate the retirement of a longtime creative writing professor at an Oct. 16 coffeehouse.
This year's staff and past contributors to Amaranth honored professor Susan Cohen for her long career as director of the AACC's creative writing program. Cohen started teaching at AACC in 1994 and will retire at the end of this semester.
"Her departure is kind of a big deal for both the creative writing faculty, but also for the students," creative writing professor Garrett Brown, who organized the event, said. "And so I really wanted to kind of have an event where, you know, she could see and interact with some former students."
This was the magazine's first in-person coffeehouse since the pandemic started and the first time the Amaranth staff invited alumni to participate in the once-a-semester event.
Brown said he hopes to transform the event to include Amaranth alumni every fall.
"My thought is, like, doing that on a more regular basis," Brown said. "Like once a year having … a homecoming coffeehouse, or like an alumni coffeehouse. … And I think there is going to be a lot of interest on the part of the alumni, so I think it will kind of turn into an annual thing and I think that would be really cool."
Alumni who attended the party said their experience with the literary magazine has had a lasting impact.
"Being here means a lot," said 2017 AACC graduate Eli Jacobs, who served as Amaranth's managing editor in 2016 and 2017. "Being in Amaranth was such a pivotal moment in my life. It really taught me how to express myself. It taught me how to communicate, and professor Cohen has a lot to do with that, as I'm sure she does with a lot of people here and who are not here."
Emily Parks, who served as Amaranth's co-editor-in-chief in 2015, agreed.
"Dr. Cohen was my mentor," Parks said. "She did my portfolio with me. … I'm really glad that … so many people came out to celebrate Dr. Cohen because she's probably one of the nicest people I've ever met. She's just always so kind and supportive."
Brown said he wanted to celebrate Cohen for everything she did for the creative writing department and the students at AACC. Cohen hired Brown in 2010.
"As an instructor you have such a big impact on people," Brown said. "To have all that kind of brought together, it seems like a really, really special thing."
Cohen created the creative writing degree in 2000, six years after her arrival at AACC.
"So when I got here, there were two classes in creative writing," Cohen said. "One was what we kind of think of as the intro and the other one was autobiography."
She called the lack of classes "ridiculous."
Eventually, she was able to add classes and "students started to pile in," Cohen said.
Cohen said she was "stunned" at her surprise party and enjoyed seeing so many current and past students from her classes.
"I'm most proud of my students," Cohen said. "Most teachers don't get to know what their students go on to do. Most of them don't get to see them 25 years later. And so what an amazing thing, them telling me about their children, their jobs, whatever they were telling me about. It was beautiful."
In retirement, Cohen plans to travel the country and work on a book about urban farms.
"I had to stop [traveling] when COVID came," Cohen said. "And so I had [visited] 15 farms. And my first thing I'm going to do, as soon as the weather turns … is to go back to that project."