AACC Heads to Regional Finals After Whopping Oxford College of Emory University 5-2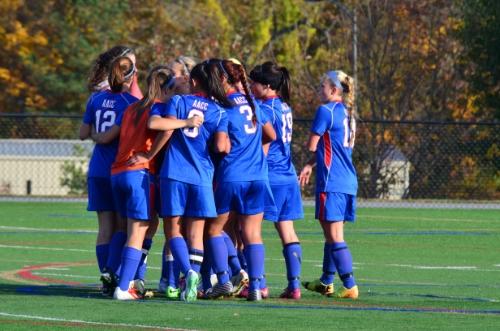 The Anne Arundel Community College women's soccer team beat Oxford College of Emory University in the regional semi-finals 5-2 Friday at Siegert Field in front of a crowd of about 100 people.
Both teams came into the game on great runs. Oxford came in on a six-game winning streak while AACC came in on a five-game streak.
Oxford scored first. Three minutes into the game a cross came in from the left and was tipped by the AACC goalie, Mary Grace Kelly. The loose ball fell to Oxford winger Hansine Vexlund who poked home the opening goal.
AACC answered three minutes later when Ashley Wilkins cut inside on her defender and beat the Oxford goalie with some help from the far post. In the last minute of the first half Kelly was drawn out of her goal but got some help as Oxford hit the crossbar twice but couldn't score.
The first half ended with a score of 1-1. This didn't surprise Jim Griffiths, head coach of the AACC women's team, at all.
"We hadn't played a game in two and a half weeks coming into today due to scheduling issues," said Griffiths. "I think the first half definitely showed we were a little bit rusty."
AACC took over the game in the second half. Haley Smoot scored 12 minutes into the second half and put AACC ahead 2-1. After the game, Oxford Head Coach David Morris talked about the quality of this goal.
"That was a terrific goal," he said. "Our defender did everything right. Our keeper did everything right. She had about six square inches to put the damn thing and she got it in there."
Smoot's goal put the Pioneers ahead for good. It was the first of three goals in an eight-minute stretch that saw AACC take control of the game. The halftime talk from Griffiths was the spark to the second half.
"I don't usually yell at halftime that much," he said. "I sort of put it on them. You guys want to have a shot to go to nationals, you got to come out and play better."
A higher intensity and better communication made the difference, according to Kelly and Wilkins.
Oxford did get one back 32 minutes into the second half and there was a glimpse of a comeback. But AACC got a late penalty and Wilkins scored the game's final goal.
The AACC women's team will take on Montgomery College in the regional finals on Sunday at noon at Siegert Field.