Rachel Falls in Love with New Orleans
When she's not writing for her school's newspaper The Maroon, Rachel Falls can be found
wandering the French Quarter, shopping in the best hole-in-the-wall thrift stores she can find.
Falls is an Anne Arundel Community College alum, now attending Loyola University New
Orleans. When Falls was attending AACC, she was editor of the Campus Current.
What's your name and how old are you?
Rachel Marie Falls, born June 24th, 1993 also known as the "day that will live in infamy" so I'm 21.
What year did you graduate from AACC?
2014.
What school do you attend now?
The University of Loyola at New Orleans.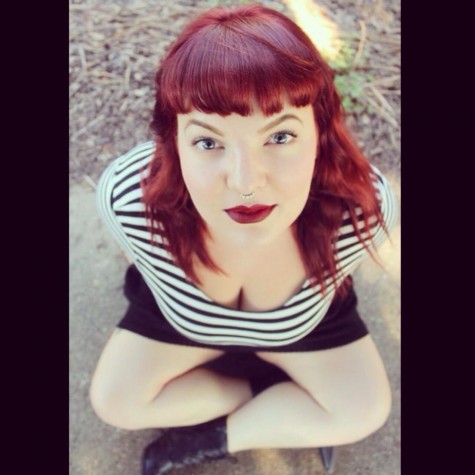 What do you think is the biggest difference between community college and university? In your personal experience?
It's a whole different atmosphere, for me at least. I feel like at community college, it was more [of] a communal feeling. I made life-long friendships with students and professors alike. I feel like my professors cared more about me as a person as well. I'm not saying I don't have that at Loyola, but I'm surrounded by students in my class who have been there already for 2-3 years and know each other. Friend groups have been formed. And to the professors, I'm just another head that needs to be counted.Maybe it will be different after I'm here for a few semesters. The weather here is also really hot and it's October and all I want is a cool breeze.
What are you studying at Loyola?
Journalism, photography, and gender studies.
Do you like the program they have for journalism there?
It's a great program. I'm learning how to use the Adobe Creative Suite right now.
Is it tough?
Oh my god, yes. I had to drop a class because I felt the course load was too heavy.
You were at AACC you were editor of the Campus Current; does Loyola have a student newspaper?
They do. It's called The Maroon and it was rated one of the best student newspapers in America. It even beat Harvard. I've done some writing for it.
How well do you feel like AACC prepared you for your transition to Loyola?
It did a good job. I'm happy. If it wasn't for Sheri and the newspaper though, I'd be drowning.
How do you like New Orleans?
I love it. There is so much culture, the people are great, and the food is just divine. I've sampled so much food here and honestly I've become a better cook because of it.
What's your favorite thing to cook?
I make a mean fried chicken. And fried potatoes. I also make really good southern green beans. I learned my cooking from my family, whom originate from West Virginia, Virginia, and North Carolina so my cooking is very southern. But I also make really good veggie burgers and I'm an excellent baker. I picked up some pepper jelly from the farmers market yesterday and I plan on experimenting with that.
In your free time, what's your favorite thing to do?
Probably [to] wander around the city parks or the French quarter. There's a lot to do here. Shopping, food, or just enjoying the sights. I really like thrifting. It's fun to do here. I always find some kind of interesting piece.