Secret New Policy to be Shared at State of the College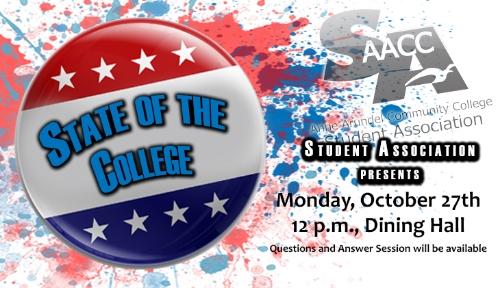 Anne Arundel Community College's Student Association will be sharing a new policy at the State of the College on Monday Oct. 27 at noon in the SUN dining hall.
"We will be informing [the students] about an important policy that the school is going to be bringing," Said Chris Pineda, president of AACC's Student Association.
While the State of the College was created so the officers of the Student Association can share information with the student body, it is also going to be an open forum. The SA will be answering any questions that students may have.
In holding this this open forum for students, the SA is "hoping for a big crowd because [they] will be sharing a new secret policy," said Pineda, that the college is hoping to enact soon.
Pineda will also be inviting any students who would like to voice their opinions against the secret policy to the Board of Trustees meeting, which is on Tuesday, Nov. 11 at 6p.m.