AACC grads happy to have normal ceremony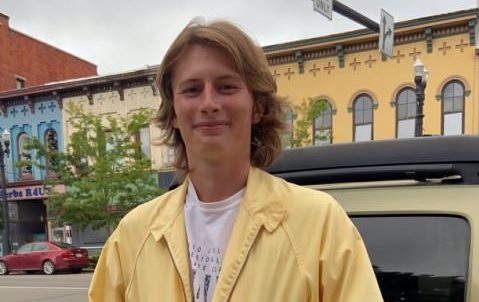 Students who are graduating in May said they expect their AACC commencement ceremony to far surpass what they experienced when they finished high school.
For some, the AACC graduation on May 26 at Live! Casino & Hotel in Hanover will be the only commencement ceremony they have ever attended.
Second-year business administration student Brandon Timmins graduated from high school in 2020 and didn't get to celebrate his graduation the way he wanted.
"I didn't have a prom nor graduation," Timmins said. "I had prom in my ex's backyard and I had my graduation in my ex's backyard. So that's pretty much what I did." AACC's May 26 event will be the first in-person commencement since 2019. In 2020 and 2021, the college hosted a "carmencement." During carmencement, graduating students drove around Ring Road while faculty and parents cheered them on from the sidewalks.
"I'm not one for relishing in my accomplishments, but I will say it's nice to get recognition," Katheryne Lochart, a second-year transfer studies student who is attending the ceremony, said. "So it'll be really nice to have a graduation."
Lochart added: "It's almost like the whole phase of my life through the pandemic was at AACC. So it's kind of nice to have that sort of come to a close in the graduation and to celebrate my accomplishments when I wasn't able to before."
Lochart said the past two years were "almost like the whole phase of my life through the pandemic was at AACC."
Second-year biology student Tiffany Bixler said she had planned to attend her AACC graduation but missed the registration deadline.
In high school, she said, "I sort of had a graduation. It was an outdoor thing and each of us went up on the stage individually, but all my friends weren't there. It was just me."
She added: "I went up and shook my principal's hand and he handed [my diploma] to me. And then I left, but it was just a really small stage in the bus lot of my high school. So [it] wasn't anything major, but it was nice."
Still, she said, "I never got to say goodbye to all my teachers." 
Luke Lanham, a graduating transfer studies student, said he is looking forward to the May 26 event.
"It definitely feels like a victory not only because of COVID, but just because I've been in college courses for like four years now on and off and I still don't have anything to show for it," Lanham said. "So, me getting an associate's degree is a big step for me."
He added: "[I'll] have my associates. … I have something that I can be proud of that I accomplished in terms of school and education. And then I'm especially proud of it because of COVID because it was so much tougher."
Timmins agreed, but said his college experience has been a good one.
"You've got to find the good in everything and I'm grateful for many of the experiences that I have had during the pandemic because … [some things] wouldn't have happened if things were normal," Timmins said.
"Everything happens for a reason and in some ways, I think that's true," Timmins said. "You just got to … find those hidden blessings in a sense."