HawkTrade show returns to Arnold campus
About 100 students and staff last week visited the Entrepreneurial Studies Institute's first in-person student trade show since the event went all-virtual in spring 2020.
Nine student entrepreneurs participated in HawkTrade, where they promoted businesses ranging from personal fitness training to sports gear manufacturing to pet care.
"I think [HawkTrade] was very well supported, considering the pandemic, but not even," Stephanie Goldenberg, academic chair for ESI, said. "I was so excited to see our students here in person, connecting with each other."
Goldenberg said HawkTrade is "part business and part learning," granting student entrepreneurs a chance to practice their sales pitches and set up their tradeshow tables.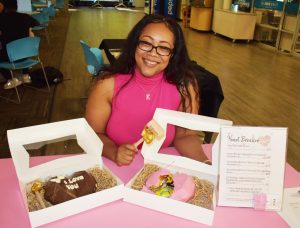 "It was great to learn about people's businesses and get inspired by their creativity," said business student Audrey Wais, who attended the event. Wais is taking a gap year and plans to return to campus next semester.
Nickie Lambert, a third-year entrepreneurship and visual arts student, talked about her sports equipment company, Puck Jones. Lambert, whose idea won her $16,000 at AACC's 2019 Business Pitch Competition, said Puck Jones makes hockey gear "for the dedicated player."
Puck Jones "is rethinking a lot of the gear that goes into hockey and designing it around the player who carries their own gear to and from [games and practices]," Lambert said.
Keisha Love, a fourth-year nursing student, won the title of "fan favorite" at the college's 2017 Business Pitch Competition. She attended HawkTrade to show off her company, Heartbreaker Treats, which makes chocolates for special occasions.
"When you give a gift, you're making it memorable and you're making an impression," Love said. "If you were gifting someone at a birthday party, walking in with that Heartbreaker Treat would be a showstopper because everyone is crowding around, ready for the person to crack that chocolate treat to see what's inside of it with the suspense of not knowing what it is."
Wais said she enjoyed the in-person event, even though she had some reservations about coming to campus because of the pandemic.
"It was really great that it was interactive because it made [HawkTrade] more interesting," Wais said. "It was good to speak one-on-one … instead of one person speaking to a crowd. … It's definitely a different chemistry than you get online."