Campus celebrates Halloween with costumes, events
Halloween is on Sunday but the campus will keep celebrating it for another week.
Students, faculty and staff celebrated Halloween, virtually and on campus, over the past couple of weeks at AACC-hosted events. And the Student Government Association will continue its seasonal festivities next week with an in-person movie screening, pumpkin painting on the Quad, board games in the Student Union and a virtual game of Skribbl.io, an online game similar to Pictionary.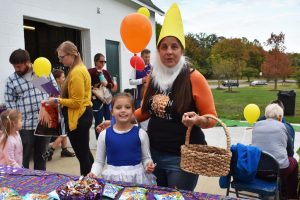 President Ben Nussbaumer said the SGA postponed its Halloween Spirit Week events because it advertised them on the Nest too late to attract a crowd.
"We want our students to come out and have fun at the events," Nussbaumer said. "We figured it'd be better to push it back and have more students show up rather than just having one or two people because not everyone knows it's happening."
Still, the SGA hosted Costume Day on Wednesday for students who wanted to wear costumes to school.
Abigail Billovits-Hayes, SGA vice president of public relations, dressed as the Chucky doll from the "Child's Play" franchise. Michael Amwoga, SGA vice president of finance, wore a chef's uniform and Nussbaumer dressed in a "medieval Scottish" costume that doubled as his costume for this year's Maryland Renaissance Festival.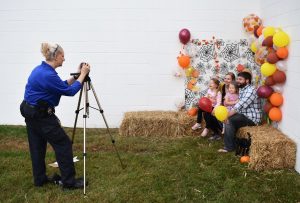 Costume Day was "pretty good," Nussbaumer said. "We had [around eight] students coming by, hanging out, chit-chatting about college stuff and transferring, [while] giving candy."
One student wore a "narwhal onesie" costume and another dressed as Ghostface from the "Scream" franchise. One student attended virtually.
"Somebody [online] made a neon mask," Billovits-Hayes said. "It had 'X' eyes, half of it was green and half of it was purple, [with] a smiley face."
The student club Active Minds hosted a screening of the Halloween cult classic film "Hocus Pocus" on Oct. 19 as a way to relieve stress from midterm exams.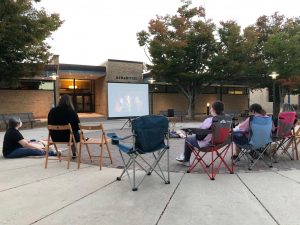 Aimee DeRenzo, the club's co-president, said the Halloween-themed movie night was a "great way" for students to "relax" during breaks from studying for midterms.
"Having a night where we can chill on campus and [watch] a movie is great, not only for morale, but to meet new people on campus as well," DeRenzo, a third-year psychology student, said.
According to the club's co-adviser, professor Juli Hawk, Active Minds is about mental health, suicide prevention, advocacy, education and connection. Hawk said the movie night event was one of the club's "self-care activities" and allowed students to "come to campus in a safe way" and "do things that build community and are fun."
"We are always trying to promote a sense of community and a chance for folks that feel a little bit lost on campus, to connect with others that have similar interests," Hawk said. "It's a chance to connect, unwind a little bit and get used to campus again [as students] are easing back in."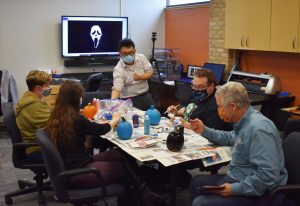 AACC's Department of Public Safety and Police hosted its fifth annual pumpkin patch event for staff, faculty and their families on Oct. 22 behind the Arnold campus Barn on College Drive, after skipping it in 2020 because of the pandemic.
Sgt. Janene Kerpelman said the purpose of the event was to "share fun times with our community. … We all work really hard and it's our way of saying, 'Let's have a good time together.'"
The event included a hayride, games, arts and crafts, and a pumpkin patch.
"The first 100 kids get to go pick their own pumpkin," said Kerpelman, who took photos of families at the event.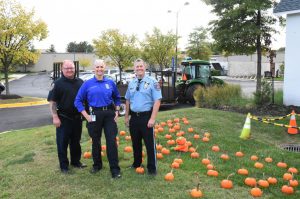 Academic adviser Laurie Hubbard has attended the annual pumpkin patch event with her children since it began in 2016 and said she it has left her with "lots of family memories."
"My kids have loved coming to this enough to ask when it's happening again," Hubbard said. "We were sad to have missed it in 2020 but are definitely excited to have come [this year] with a feeling of normalcy."
The Entrepreneurs Club hosted a Halloween Happening on Tuesday Careers Center's Hatchery.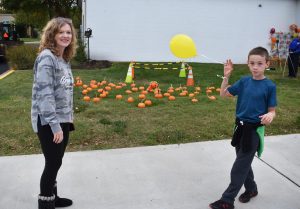 Business Professor Stephen Berry said he hoped students painting pumpkins together would lead to better communication skills and foster a sense of camaraderie and collaboration. Participants got free pumpkins.
"What we do in business [is] create and come up with new ideas," Berry said. "Painting pumpkins is an expression of creativity and innovation."
Acting E-Club President Jesse Trott said he hoped the in-person Halloween Happening event would give students a chance to reconnect after meeting virtually for so long.
"We had E-Club meetings online, but they just did not have the same feeling [of] connectiveness as meeting in person does," Trott said.
Other seasonal events included the Festive Fall Walk in person on campus on Oct. 20. The event featured a walk through the autumn foliage and a lesson about improving wellness. Students also attended a virtual event called "Don't be Spooked by the FAFSA" on Tuesday to learn about federal student aid options.