Riverhawks basketball season ready to begin
Basketball players and coaches this week said they are excited to be back on the court after 18 months.
The first games for the men's and women's basketball teams are Nov. 2 at Penn State York. 
The men's last pre-pandemic game was Feb. 29, 2020, against Sandhills Community College, which resulted in a 108-92 loss. The women's was the NJCAA Region XX Division 3 women's championship game on Feb. 23, 2020, against Prince George's Community College, which resulted in a 74-60 loss.
"Oh, I'm excited, really excited," men's basketball coach Joseph Snowden said of the new season. "We've been off for 18 months. So if you play basketball, any sport, you want to get out there and do something and when you have young kids that have all the energy, you want them to be out there and having fun."
Women's coach Lionell Makell agreed.
"It feels wonderful, absolutely, [after] a year and a half," Makell said. "You know, you get along … and [then] just have to recruit from scratch. So that's a two-year absence since we missed last season." 
The players said they feel the same way.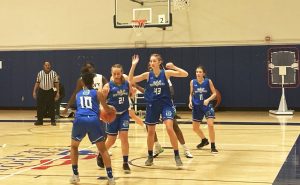 "It feels amazing," guard Michael Cantrell, a second-year student, said. "You know, practicing with the team, and just playing hard and being one of the leaders this year as a sophomore." 
Women's guard Syrena Boone agreed.
"It feels great because after Covid we took a long time off, a couple years away from the court," Boone said. "So it's good to be finally back, you know, being around the team again."
One men's player said competitors might underestimate the Riverhawks.
"People might underestimate us because of our size," guard Che' Colbert said. "So if we are going to use our speed and everything, that will put us over the mark."
The team's game plan is to use a lot of pressure and speed.
"We want to try and upset teams by using our speed and our pressure and hopefully shooting threes," Snowden said. "We have really good shooters this year." 
Another player said he feels good about his team's chances of going all the way.
"100% chance, if we play together," guard Jamar Young said. "This is going to be a crazy season." 
The women's players also said they feel good about their chances for this upcoming season.
"I feel that we're going to do really good this season," guard Sydney Woodland said. "We have a lot of great players to showcase their talent." 
Boone agreed.
"This year, we have a really good solid team," Boone said. "We have nice shooters, we can handle the ball. I think we are going to do well this season."  
Makell said the group's strength is good basketball knowledge and their weakness is the number of players.
The women's team has seven players.
Still, Woodland predicted the team will have a winning season.
"We're definitely going to go all the way," Woodland said. "I feel like most teams around feel like they're better than us or think we're the underdogs, but I definitely disagree." 
"Absolutely," Makell agreed. "Always have a good chance at going all the way."