College celebrates women's history with online events
AACC will host about a dozen virtual events in March to celebrate Women's History Month by highlighting the known and unknown contributions of women.
Women's History Month is about making visible the contributions of women, both historically and presently, according to Sophie Reverdy, a distance learning librarian and co-organizer of the campus observance of the month.
"Women's History Month is a month that's dedicated to highlighting the contributions and the work of women and the lives of women that maybe have been omitted from traditional historical narratives," Reverdy said.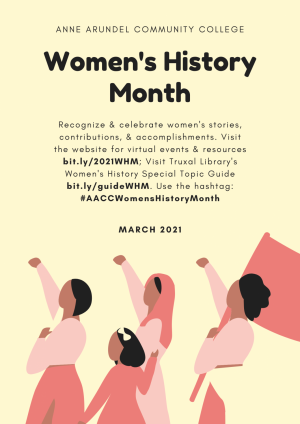 It's important that AACC celebrates Women's History Month because of the college's mission, which focuses on diversity, equity and inclusion, according to English Professor Shelley DeBlasis, also a co-organizer.
"Until our culture can intertwine or braid narratives from all our citizens and people who've contributed to the story of our culture … we need to shine the spotlight on certain people and groups," DeBlasis said.
Some events will take place over Zoom, such as the a talk with artist Clarity Haynes about being a queer feminist artist, writer and educator on March 9 and the Anne Arundel County Police Chief Amal Awad speech on March 11 about how to better improve policing in the community.
Other events are online with no Zoom session, such as the Art+Feminism Wikipedia Edit-a-Thon, Women's History Month Hashtag Project and Zine Project throughout March.
Madeline Blythe, a transfer studies student, said it's important to celebrate Women's History Month because much of women's history is unknown.
"There's so much history that we don't know that I think any chance that we can celebrate it or, you know, inform about it is important," Blythe said. "[If] it takes having a women's month to do it, then it's even more important."
Because of the pandemic, the organizers decided to skip the usual on-campus events celebrating women in art and literature because they wouldn't transfer well to a virtual environment, according to DeBlasis.
Sophie Beaulieu, an undecided student, said it's good for the campus to celebrate Women's History Mont, even if it's online. "I guess if virtual is as much as they can do, then [those events are] pretty cool," Beaulieu said.
DeBlasis and Reverdy said will continue to add events as the month continues and post them on the AACC Women's History Month website.
###