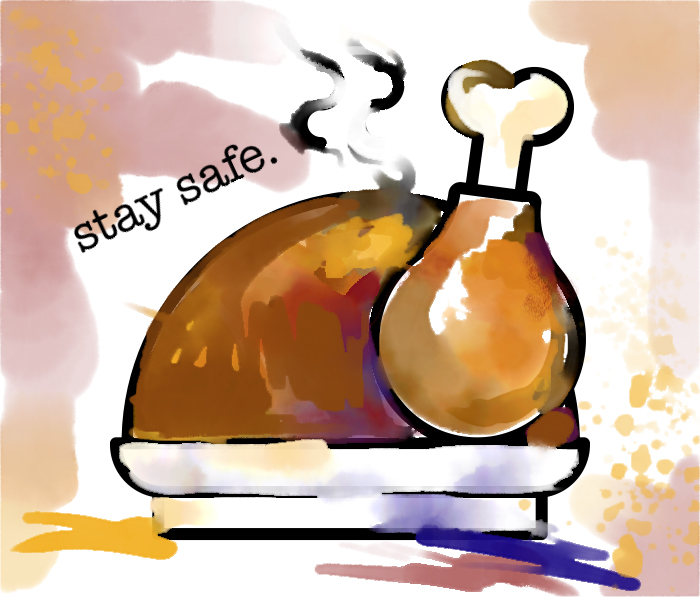 Summer Cox
AACC students said in November they plan to celebrate Thanksgiving at home with immediate family this year.
In an informal Campus Current poll of 22 students, only three said they plan to invite visiting relatives over for Thanksgiving. In fact, 72% of respondents said they feel is not safe to invite relatives over.
"My mother and my sister both have… [health] issues," Abby Maloney, a second-year public health student, explained. "Exposing them to COVID would make them really sick."
Graph by Summer Cox
Anne Arundel County officials urged residents last Wednesday to proceed with caution as they celebrate Thanksgiving and to follow Centers for Disease Control and Prevention guidelines.
The CDC recommended that anyone planning a Thanksgiving event should hold it outdoors and limit the number of guests. The CDC also said partygoers and hosts should clean and disinfect frequently touched surfaces and items between uses.
The CDC recommends students living at four-year universities should not travel for the Thanksgiving holiday.
The guidelines did not address community college students, who typically do not attend out-of-state colleges or live in on-campus dorms.
Still, some AACC students said they would prefer to spend the holiday with their extended family.
Korean Culture Club President Moriah Thompson said it is "bittersweet" that she will not be able to see all of her family this year.
"Thanksgiving with my family is definitely a time where we get to see other family [members] that we don't see as often throughout the year," Thompson, a second-year premedical student, explained. "Not being able to see them is really … sad. But at the same time, I am also glad that I don't have to cook this time."
Some students said they are considering hosting a virtual Thanksgiving.
"It's not ideal," Maloney explained. "But it's the safest option at this point with COVID cases on the rise."