Professor Confessor
1) Question: What is your new position and how does it differ from your older one?
Answers: My "new" position is that of Assistant Professor of Performing Arts in Theater. The category of the courses I teach falls under the umbrella of Theatre Design and Technology. Really, the primary difference between this position, and what I was doing before, is that it is a full-time position, not adjunct.
2) Question: What's the main difference between being an adjunct professor and a full-timer?
Answer: The biggest difference is the hugely beneficial amount of face time that I get with the students now that I have my own office; a home base, so to speak, that students know exactly where I'll be and when I'll be there. Most often, that's going to be the Robert E. Kaufmann Theater in the Pascal Center for Performing Arts, but also in the Cade building with the rest of the illustrious and talented Arts faculty on this beautiful campus.
3) Question: I've heard that you've created sets and displayed them in 7 different states. What is your process?
Answer: As far as scenic design is concerned, the process always begins with the big idea. What is the main message of the play? Often this is delivered in some form of a vision statement as it is to be interpreted by the director of the production, and can lead to researching a specific design or artistic style to inform the design. I could design whatever set I wanted to, but I have to keep in mind that it's going to be used by a director to make pictures with actors wearing costumes designed by possibly another designer, and props designed by probably another person, under lights designed by yet another designer, and so on… There are so many layers to a theatrical design for a production that you must take into account that you as a set designer are only telling a small portion of the story, or simply providing the environment in which a story occurs.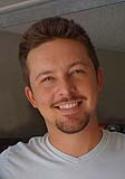 3) Question: What was your favorite set that you created and where did it end up being displayed?
Answer: Every set that I work on is my favorite, and every set that I work on is the bane of my existence. If a reader is reading this and thinking they might be interested in working in the theatre, I would encourage you to go to every length that you can to get training in it. Look at it from all angles; yes there is acting and directing, but also set design and construction, scenic painting, lighting design and implementation, costume design and construction, stage prop design and construction, sound design, special effects design, stage makeup, business administration,
box office management and marketing, and stage management, and the list goes on and on… The one thing of which to make sure, is that when making the career path your chosen field, you are compelled to do Theatre. This career field can be so difficult to break into that in order to justify to yourself the Olypmian effort it can take not to be dissuaded and give up on the road to your theatre career, to quote Patrick Stewart, "That to live without (theatre) you would wither away… and die".
4) Question: How did you end up in this line of profession?
Answer: Amazing teachers that bent over backwards to make sure I had the means, as long as I had the passion, to go wherever I wanted with my career. If you want the gunshot moment that I knew what I was going to be doing for the rest of my life, when I was in undergraduate school, I took a trip to London for a summer back in 2005, signed up for a semester of "Modern Trends in Theater" with one of the most passionate teachers I've ever had, Costume Designer Lalonnie Lehman. We saw some 30 shows if memory serves, and were constantly on the run – we ran from about 8am, and if we were done for the day by midnight, it was an early night! We were living, eating, and breathing theatre for almost two months in one of the most important theatre towns in the western world.
5) Question: Are you working on anything new or did you work on anything new this past summer?
Answer: Every day, really. One of my favorite things about my job is I almost never do the same thing twice. This summer I designed the set for the Opera AACC production of Carmen, the set for The Tempest at the Trinity Shakespeare Festival in Fort Worth Texas, as well as the set for The Nosemaker's Apprentice: The Chronicles of a Medieval Plastic Surgeon with Amphibian Stage Productions, also in Fort Worth, Texas – Nosemaker's will be reproduced this coming spring, actually, at Bloomsburg University in Pennsylvania. I've got a show opening in northern Baltimore this month, I closed in a show in downtown D.C. last month, I just wrapped up a consultant job for a marketing company also based in D.C., and, here at the college, am wrapping up the design phase for Les Liaisons Dangereuses to open this November and about to begin the design phase for The Phantom of the Opera here at the college, to open in the spring term, all while preparing and teaching Stagecraft THA121, Introduction to Theatre THA111 both online and face to face, and Play Production THA 180/181. In the spring, we are getting ready to give our students the opportunity to sign up for our Acting Classes, a possible Movement Class, Stage Makeup, Introduction to Stage Design, Script Analysis, and more Play Production (the class that actually will crew The Phantom of the Opera!).