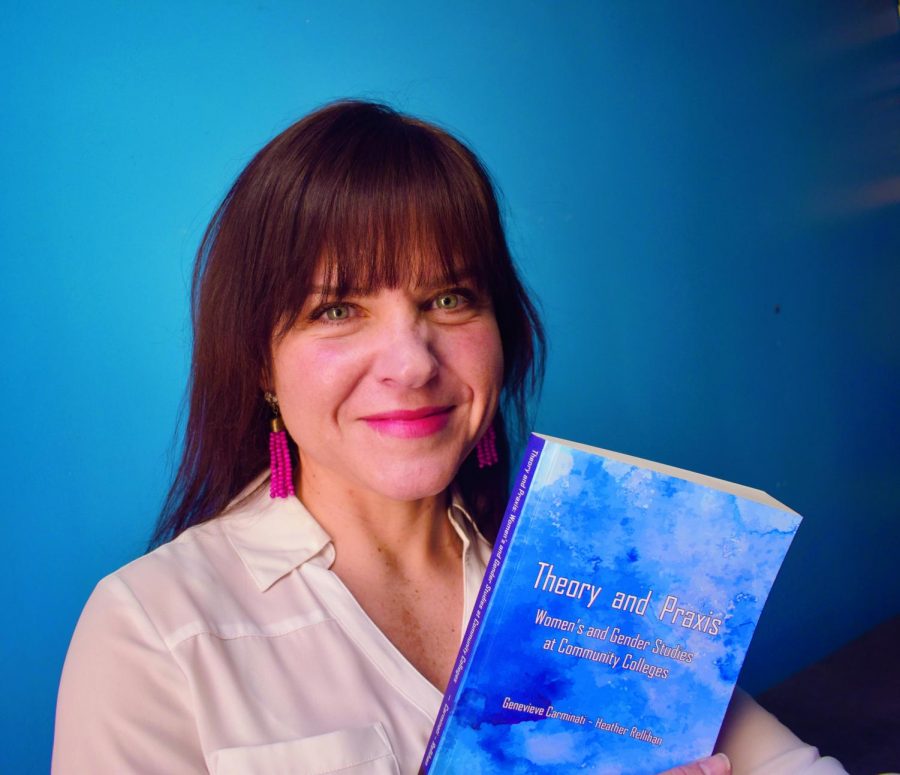 Courtesy of Dr. Heather Rellihan
Dr. Heather Rellihan walked across the Arnold campus last fall looking at her phone when she noticed an email saying she had won the coveted Martin Luther King Jr. Zeitgeist award.
"I was so honored and completely surprised," Rellihan, AACC's academic chair for interdisciplinary studies, said. "It made me feel very valued at the college."
Rellihan won the award for her work to advance diversity at AACC.
Suzanne Spoor, a professor of English and gender studies, nominated Rellihan for the award.
"Heather's impact on diversity cannot be overstated," Spoor said in her nomination letter. "She de-centers authority when she lectures, uses strategies to draw all of her students into discussions and creates assignments that make it possible for differently abled learners to succeed."
She added, "Heather works every day to make her classroom a space where every single student, regardless of class, race, gender, religion, culture and ability, can succeed."
Marlee Giles, a first-year transfer studies student who took GSS 101: Introduction to Women's Studies with Rellihan, said her professor deserves the award. "She does a very good job at bringing to light many of the issues that we don't see as a people."
Rellihan also recently published the book "Theory and Praxis: Women's and Gender Studies at Community Colleges," an anthology of essays written by community college students and faculty.
"There are essays that are about the process of teaching and thinking about it from a more pedagogical or philosophical perspective," Rellihan said. "There are also these highlighted pieces that tell a little bit about the student and why the student has chosen this field and what they want to do with it."
Rellihan said she spent three years putting the book together.
Richard Otten, adjunct instructor in interdisciplinary studies, contributed an essay to the book.
"I was honored that she asked," he said.
He added, "She's a great boss. … She doesn't do things for the sake of building up her [resume] or trying to accomplish the next promotion. She tries to do things in the interest of the college and in the interest of the students."
Rellihan said teaching is her form of activism.
"When I think of my classroom as a form of activism, it's not because I want people to leave having the same politics as me," Rellihan said. "That's not it at all. It's that I want them to be able to ask good questions and try to hear what other people have to say."
Jonathan Garcia-Ventura, a second-year psychology student, said taking Rellihan's classes has changed him.
"I've been here … for four semesters," he said. "I've taken 20 courses now and I believe taking a class with her is the most life-changing experience I've had. … I thought that she was an amazing professor to have and she really brings in a deep sense of focus and open mindedness."