SGA holds spring general forum
AACC's Student Government Association held their spring general forum meeting on Monday.
Topics discussed at the forum included the Nest, club cords and SGA spring elections.
Club officials expressed their frustration with the current state of the Nest.
"If you are experiencing issues with the Nest which I know many people are, the best way to get those resolved is to contact Dean Boykin," second-year psychology and English student Mitchell Santos, president of SGA said.
Clubs use the Nest, a web-platform that houses all AACC clubs, for administrative procedures such as communicating with club members and scheduling events.
Santos recommend students continue using the nest.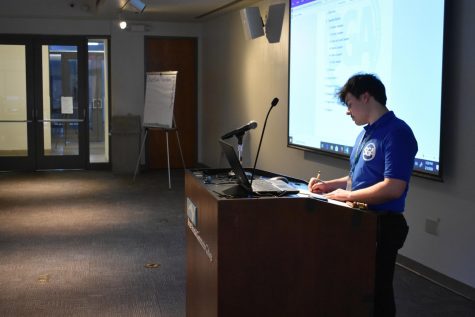 "It's a great system when used properly," Santos said.
Santos expressed his excitement on club graduation cords.
"I am really excited about the club cord initiative. This is the first year we decided to do this," Santos said.
Clubs now have the option to request up to seven cords for their members, with cords coming in either one solid color or one color doubled with another.
"I am looking forward to graduating and seeing all the different students with their different club cords on. I think it is going to be very special for the clubs" Santos said.
The form to request a cord can be found on SGA's nest page. The deadline to submit a form is March 1st.
Santos said he is looking forward to the spring SGA elections.
To be a candidate, students must complete a nomination form that can be found on SGA's nest page. The deadline to submit a form is Feb. 28.
Every student can vote for their desired candidate through the Nest. SGA spring elections will take place through April 6 to 10. Results will be listed on April 13.
Transportation between all AACC locations, increased esports representation and different textbook versions were among other new big ideas brought up during the forum.