AACC Opera presents musical 'Sunset Blvd'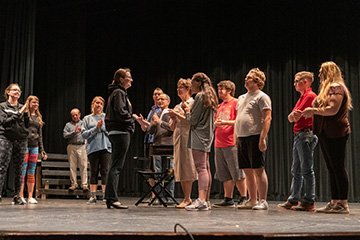 Student actors will star alongside performers from the community in the Andrew Lloyd Webber musical "Sunset Boulevard" at the Kauffman Theater Oct. 4.
The musical, adapted from the Billy Wilder film of the same name, is set in 1940s Hollywood. It addresses the issues of aging silent film stars confronting a world in which they are no longer relevant.
The story revolves around a young screenwriter, Joe Gillis, and his relationship with a delusional silent film actress, Norma Desmond, who still sees herself as the star of Hollywood.
Elementary school teacher Trevor Greenfield and AACC alum Kristina Banks will star.
AACC music director Doug Byerly said his philosophy revolves around "[giving] the students the experience of working side-by-side [with] some of the best actors in the area."
"I think the greatest challenge is the students that are on campus … don't always feel that they can be themselves," said Peter Crews, an AACC graduate who plays the roles of Sheldrake and Manfred. "So, when you have professional people coming in … [the students] realize that [they] can relax, and you can have fun."
When Crews isn't rehearsing late at night with the student actors, he works as a high school science teacher.
"My day starts at 6 o'clock in the morning and it ends at 11 o'clock at night, so you balance it," Crews said. "Which they talk about in the show. Sometimes we don't do it for money. We just do it for the sake of having our work be seen or to experience just the love of giving a performance to people." 
Byerly said he saw "Sunset Boulevard" on Broadway years ago. "It stuck with me," he said.
He said local theater groups rarely perform "Sunset Boulevard." "It's not the easiest music, just as "Phantom of the Opera" is not easy," he said.
Still, Byerly said, "I have a strong guilty pleasure in Andrew Lloyd Webber's music. I love his music, and the story is compelling. The characters are amazing, there's dance, there's comedy, but in the end it's just this tragedy and it's a dark show at times," Byerly said.
"Sunset Boulevard" will play at the Kauffman Theater Oct. 4 to Oct. 13.
Tickets are $5 for students; $15 for faculty; and $25 for general admission.