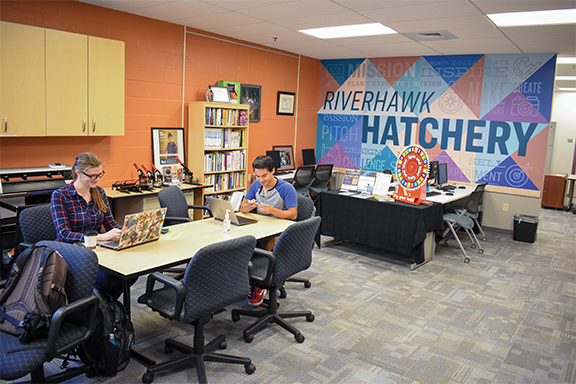 Matt Smith
AACC's Hatchery, a place where entrepreneurial students can start their businesses, celebrated its 10-year anniversary in April.  
The Entrepreneurial Studies Institute's Hatchery houses computers, color and 3D printers, and a button and magnet maker that students can use as they turn their ideas into businesses.
Business professor Stephanie Goldenberg said all students—not just business majors—are welcome to use the Hatchery.
"Come in, meet really good people, collaborate and network," she said. 
Second-year business student Daniel Levy called the Hatchery "one of the most [underutilized] resources on campus."
Hatchery members can use the space to meet clients, store supplies in lockers and use the charging station.
Third-year mechanical engineering student Abigail Traverson uses the space for homework and networking with other would-be business owners.  
"The Hatchery is a great place to bounce ideas with each other," Traverson said. "They have amazing sources."