Read more, enhance imaginative thinking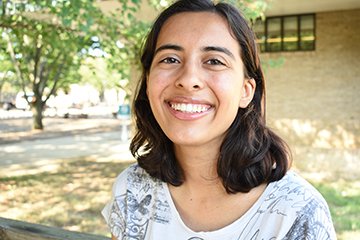 I've noticed that my friends and classmates don't read much these days, and that's a shame. Back in the day—as my parents like to say—more people carried books with them. Now we carry our cell phones instead.
I'm not bashing technology. But it does take up too much of our time.
I love to read, and reading has had a huge impact on my life. I want to encourage you to read more, too.
Growing up, my mom held off on buying me my own electronics. I didn't have my first cell phone until I turned 16. Because I never had a cell phone to play on, I turned to reading instead.
My mom read to me a lot when I was little, and the library was practically a second home. The librarians knew us because we went there so much. One of those librarians still works at my favorite library and seeing him always makes me think of the days when I relied on my mom's worn, decades-old library card to satisfy my cravings for words. Those were good days.
It reminds me of a time when I couldn't read myself, but still got to experience the most wonderful, over -the-top, fantastical stories because of a mom who loved me and taught me the value of literature.
From a young age I fell head over heels for authors like Kate DiCamillo, who wrote "Because of Winn-Dixie," Michael Buckley, who wrote "The Sisters Grimm" and Lemony Snicket, creator of "A Series of Unfortunate Events."
Soon I grew impatient with my mom's habit of nodding off during a cliffhanger when she was ready for bed. So I began to read for myself. I liked mysteries the best. I spent a lot of time with Nancy Drew and her gang, checking out stacks of Carolyn Keen books at a time.
I began to expand my horizons as I got older, learning to appreciate classics like "Sherlock Holmes" and "Ellery Queen."
More recently, "The Accidental Alchemist" series by Gigi Pandian and "Challenger Deep" by Neal Shusterman are among the many books I have enjoyed reading.
But the books I read as a child never left me. My best memories from my childhood are of getting lost in the imaginary worlds that generous and talented authors created for me to enjoy.
Reading has made me a more creative and thoughtful person. That's why I want to be an author. I want people to get lost in my stories the way I've gotten lost in others' stories.
I've traveled to Narnia and stared into Aslan's kind, green eyes with awe. I've ridden in a hansom cab through the lashing, London rain, chasing after villains with Sherlock and Watson. I've traveled back in time and forward in time, into unlimited universes and dimensions. I've ridden on a broomstick playing quidditch with Gryffindor's team and wandered the halls of Hogwarts for hours and hours.
And I've visited dragons' caves and haunted mansions, climbed mountains and forded creeks. I walked with John Coffey down the Green Mile and hid from Cujo and his slavering madness; I defeated Pennywise with the Losers' Club.
Never underestimate the power of words. They have the power to take you anywhere you'll let them. My advice: Let them.