Students hold publicity blitz for upcoming event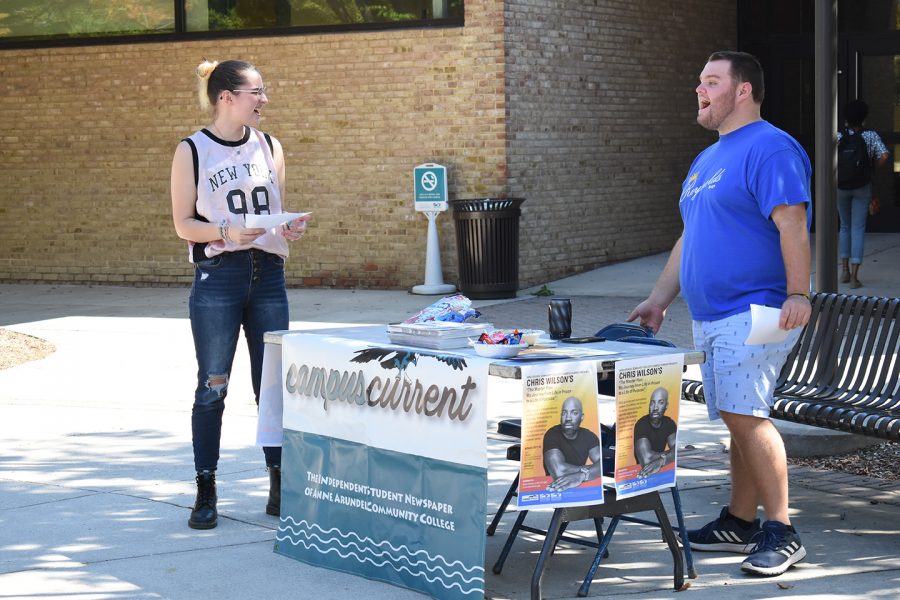 A communications class held a publicity blitz on Wednesday for an upcoming, on-campus event.
Chris Wilson, an author who earned his associate degree from AACC while in prison, is coming to speak in the Kauffman Theater at 3:30 p.m. Sept. 30.
"I'm so excited [for Chris Wilson's speech]," Jake Brannon, a second-year transfer studies student who helped organize the publicity blitz, said. "I didn't know a single thing about Chris before this class started. … Then when [my professor] talked about this excerpt from his book, and talked about his life, it got me so intrigued and interested in him."
"I can't wait to hear more of his story," Nicholas Hynson, a third-year theater arts student who also helped with the publicity blitz, said.
Journalism professor Sharon O'Malley teaches Introduction to Mass Media, the class that did the publicity blitz. She said she wanted her class to work on a project that would keep them engaged and teach them as they go.
"Our goal for the entire project is to get 100 people in the audience," O'Malley said.
Campus Current is hosting the Chris Wilson speech.