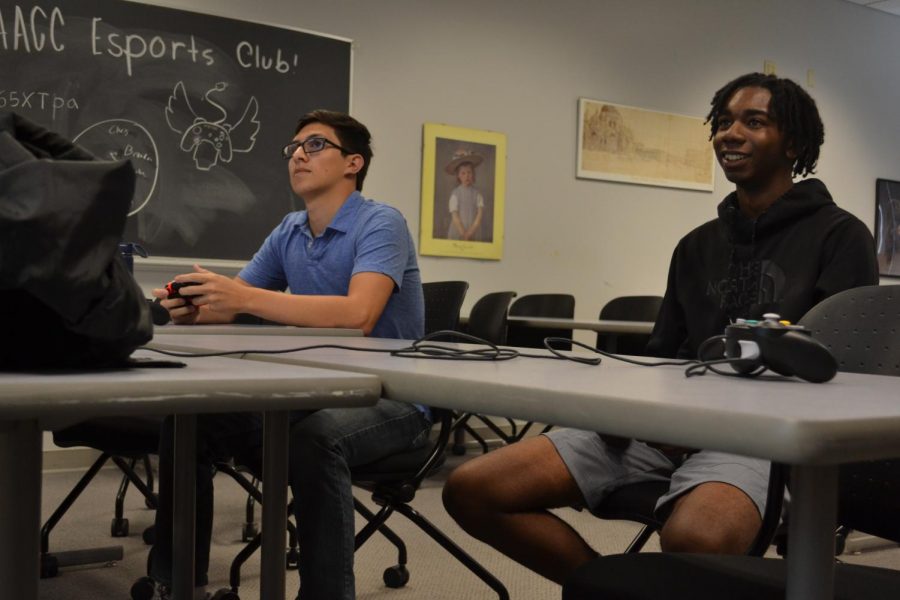 Daniel Salomon
The AACC ESports Club invited new members to join and meet new friends in their inaugural meeting of the semester on Thursday.
The club centers on competitive gaming, as members play multiplayer games including Vainglory, Overwatch, and League of Legends, forming teams in hopes of entering tournament play, said club President Joie Frank, a third-year student. Other games played include Super Smash Bros. Ultimate and Heroes of the Storm, Frank said. Frank noted the club is open to suggestions for additional teams and games.
Treasurer Dallas Coleman, a fourth-year music student, said the club has previously organized and attended tournaments around Super Smash Bros. "we've run Smash tournaments before, we've also had like, off-campus tournaments using our teams," Coleman said. "Like we've sent them to other tournaments."
One attendee noted the club's potential usefulness in finding students on campus with similar hobbies. "I don't have many friends who play video games … so hopefully I can meet friends who also like playing," third-year psychology student Ben Lowder said.
The club currently congregates in the Cade building, room 205, every Thursday from 2-6. Formerly meetings were held in the Annex B building, room 112.
Frank noted a hope for growth, including a larger meeting room. "If we could get a bigger room, we would love to have a bigger room. It's just a matter of finding one that's available," Frank said.
Frank noted teams aren't currently set and new members are welcome.
Frank said the club plans to live stream on Twitch for charity later this year. "Currently we're working on our Extra Life event which is going to be coming up in early November," Frank said. "Extra Life is our 24-hour live stream that we host, and it helps raise money for John[s] Hopkins Children's hospital." The stream will be viewable at www.twitch.tv/aaccesportsclub.
Those interested in joining the club may be notified of future events through the club's Discord, found at discord.gg/c65XTpa.