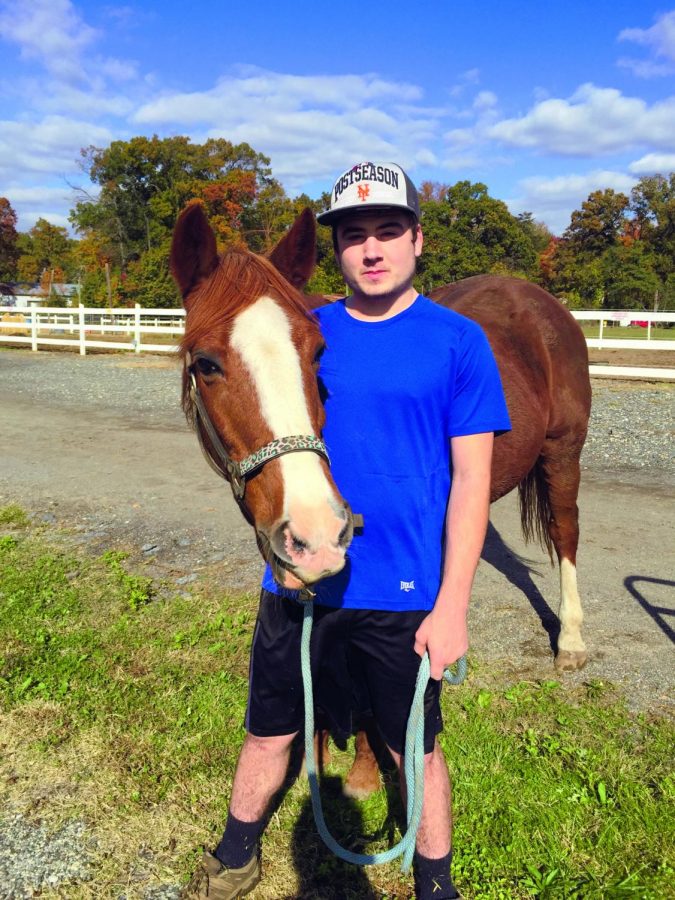 Photo courtesy of Shay Meany
As a 5-year-old with a speech impediment, Shay Meany would often throw temper tantrums and get aggressive because he didn't know how to communicate his thoughts without stumbling over his words.
But with the help of horses, the now second-year undecided AACC student learned how to be patient, confident and communicative.
At age 6, Meany's parents took him to a therapeutic riding center in Linthicum, now called Morningside Stables.
There, he met his first horse, Zeffer. Meany recalled Zeffer as an old, patient horse with brown and white spots.
Not only did Meany ride Zeffer, he cleaned his stall, cared for him and got to know his personality.
Meany said forming this bond helped him practice the social skills he would need to communicate effectively with the people in his life, instead of just yelling.
"It forced me to use my words," Meany said. "You can't scream and yell around horses."
He now gets up at 5:30 a.m. six days a week to drive 30 minutes and give back to the horses at Oakland Ridge. They continue to help him feel more comfortable around people.
Meany said he treats each horse differently, based on its personality.
"They are just like us," Meany said. "If you aren't confident around horses, they'll know. Horses can tell what emotions you're feeling."
Since his first experience with Zeffer, Meany said, he has overcome his speech problems and anxiety and plans to continue working in the field of horse care as a student at the University of Maryland.
"To be able to bond with an animal is a very special thing," Meany said.