Campus Clinic team shares skin cancer awareness tips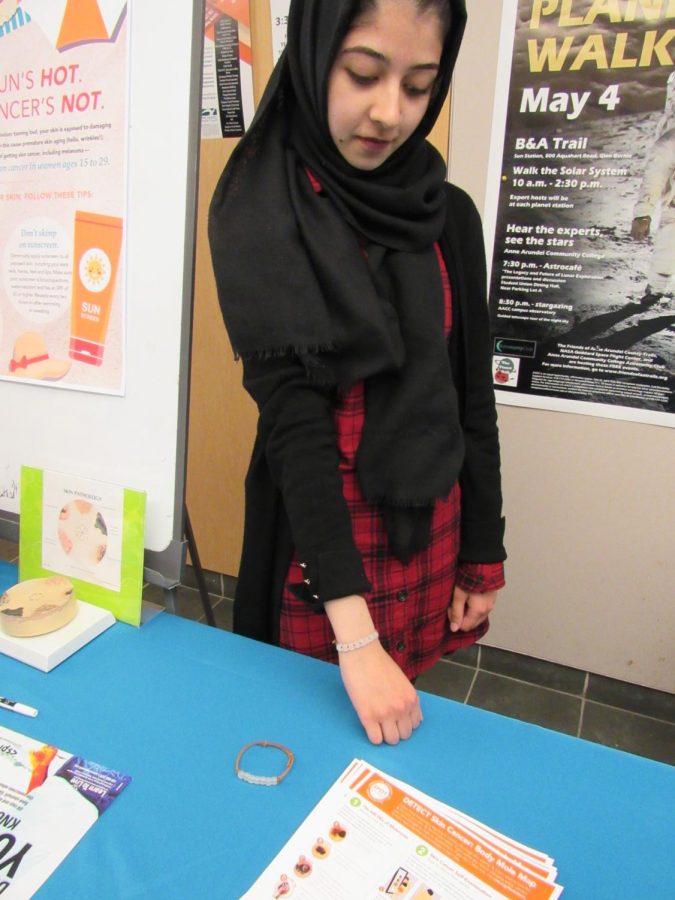 The campus clinic set up a health resource table today in the SUN building offering UV bracelets.
"What we're doing today is for sun safety and skin cancer awareness," said Stephanie Jenkins, a registered nurse with the health and wellness center. "As the weather gets nicer outside, we want students to be aware to apply sunscreen."
Lahiba Ijaz, a first-year business administration student and event volunteer modeled one of the color-change bracelets which were given free to students.
"As you go out into the sun, they change color," Ijaz said, pointing to the clear beads threaded over a comfortable leather band. "The darker they get, the more sun you are getting. If they get darker, it's time to apply sunscreen or go inside."
"Melanoma is one of the largest skin cancers for 15-29-year-olds," Jenkins explained. "So, early detection is huge."
Nurse Jenkins advised students to be careful when going out into the sun, especially as the summer months get closer.
"Examine your own body," she warned. "Anything that looks suspicious, go to the dermatologist. The earlier it's caught, the treatment and curable rates are phenomenal."
"And they glow in the dark," Jenkins said with a smile.