AACC hosts 4th annual Hoops For Hope charity event
The AACC community came out on Sunday to support the Hoops for Hope charity basketball event.
The event was sponsored by Recovery Anne Arundel and proceeds benefited the campus collegiate recovery center (CRC), located in SUN 217 and the county's crisis response team.
"Last year we raised nearly $3600," said Leigh Ragan, the treasurer for Recovery Anne Arundel. She said the proceeds were split between the CRC and the county crisis response.
"This is our fourth annual event," Loretta Lawson-Munster, AACC's substance abuse education program coordinator, said. "It's a game between the men's recovery team and the Anne Arundel County police department."
"The goal is to show that recovery is possible," Ragan added. "And we need to reduce the stigma for substance abuse and mental health."
"[At the CRC] We offer peer support for students as well as their friends and family," Ronalds I. Easley, a third-year addiction counseling student said.
"They can come to SUN 217 and we'll discuss whatever it is they want to talk about, no judgement," he said. "We direct them to resources they need if we can't handle whatever it is that is going on. We are confidential under HIPAA laws."
Alexis Cucina, a second-year addiction counseling student, said she was attending the event to spread knowledge about the campus CRC and to face-paint kids participating.
"If you're a student here and struggling with addiction," she said. "Come up to the CRC. We offer peer support, we're a safe place, we don't judge, and it's a great place to go."
"Hoops for Hope brings awareness to people in recovery and shows that recovery works," Lieutenant Steven Thomas, the crisis intervention team coordinator, said.
He added that the funds raised "helps with crisis response and the recovery center at the college."
"The crisis response gets flex funding that is used to help people who come to a safe station and may need simple needs met," Thomas said. "It could be clothing, it could be food, it could be water."
Jennifer Wheeler, who was representing New Life Addiction Counseling Services, added that this was a great event where the whole family could recover from a loved one's struggles with addiction.
"There are so many fun and great events you can perform in and be a part of and you don't have to say, 'I can't go because I can't drink or I can't get high,'" Wheeler said. "Most of our events are very family friendly. We have the face painting here and the pom-poms the kids get to run up and down and cheer. Our recovery walk is also very family friendly."
"We support the entire family," she explained. "Because recovery isn't just for the person working through their addiction but the whole family is recovering so they all need to recover together. That's why we provide these events."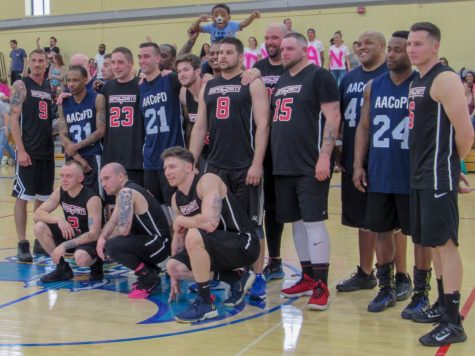 "It's an exciting game," Lawson-Munsey added. "The first year the men's recovery team won, the second year the police upped their game because they saw how serious the men's recovery team was. They took [the trophy] the second and third years. And now it's time for the men's recovery team to get it back."
Dylan Whelchel, a player for the men's recovery team, said he was ready to play his best for the crowd.
"I'm here to clean up the board and put back some buckets," he laughed. "But for me it's also to show people that getting your life together and back on track is possible. And you can have a bunch of fun doing it."
The competition is fierce but friendly and Lawson-Munsey pointed out the goal is to show "unity in the community."
Rosco Lee, a second-year student in the addiction counseling program, said this was his first time at the event and he was excited to "see people getting together and enjoying the moment."
"It's a good cause," he added and invited other students, faculty, and staff to come out next year and "support the college, the community, and your peers."
Mike Stevenson was a player for the men's recovery team and he said, "There is so much respect between the two teams. It's so gratifying."
He also underscored the event's message that recovery is possible.
"I mean, there are some of us who have been out using for twenty plus years — I was in active addiction for twenty-two years and I'm coming up on three years clean," Stevenson said.
"There's so many support systems and organizations [for recovery] that people don't even know about or even realize are out there," he added. "When I got involved with recovery at Anne Arundel I had no idea there were so many coalitions of support groups to show support for any addiction in the community."
Officer Don Epps played for the Anne Arundel County Police Department but he said in terms of supporting the community, everyone was on the same team.
"My role here today is to get back into community policing," Epps said. "This is a great environment. We get to bond together and learn from each other. While playing a team sport we get to build some kind of connection, so when we see them out on the street it's like, 'Hey, how was your day?'"
Epps' advice to any member of the AACC community who is struggling with addiction, either their own or a family member's, is "never give up."
"It's always good to talk to somebody," he added. "There's always somebody who has had the same situation or is going through the same thing. They can help you or give you some advice to help you through it."
John Prouty, a first-year business leadership student, also helps out at the campus CRC. This was his second-year supporting the event.
"I'm actually friends with the entire team on the 'non-police side,'" he said. "They love their opportunity to play the police. It's a fun change of pace. They are running around on the court next to the police instead of away from them. And it's nice to see the community come up to support them. Everyone loves it."
Corporal Ron Gamble, a police team captain, agreed that this was a great way for the community to come together in a positive way.
"These young men have experienced a lot. Been through a lot," Gamble said. "It's a great thing for them to participate in a sport and work together as a team. I think anything that the police can do with the community is a great thing, especially when they can do something that's fun."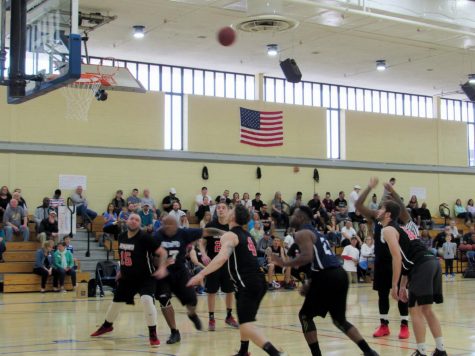 After an incredibly intense and close first quarter, the men's recovery team played hard, played well, and earned their six-point lead against the police team: 35-29.
Abraham Wekepe, a community member in the stands, cheered on his son on the "blue team" along with his two younger children.
"It's very intense," said Natasha Wekepe. "It's a little too close for me."
During a break, the men's recovery team captain, Nick Colvin, said teamwork was a goal for upping this year's game and taking back the trophy.
"The last couple of years we got away from that a little bit," he admitted. "We've practiced on Sundays together to keep the chemistry going."
The skill his players brought to the court was impressive, sinking shot after shot, or making sure someone was open to make a lay up on an assist. Colvin gave insights to their team strategy.
"Control and intensity," he explained. "Bring it down fast when we can, make an extra pass when it slowed up, and look for an easy bucket. And make free throws."
Colvin added, "We've got a little bit of offensive firepower, so we're trying to use that this year."
Their dedication and teamwork resulted in an upset and a win for the men's recovery team.
"The ball didn't bounce our way a couple of times," Corporal Gamble laughed, but added everyone had fun.
"Winning is good, but everyone is a winner here today," said AACPD police chief Tim Altomare. "I'm here to support all of the players. Building bridges is what it's all about. It's my fourth year coming out here and man, what a game it really is."
Altomare pointed out that community building is critical during a time of devastating opioid addiction.
"Our numbers of folks we lost kept going up and up," he explained. "So Hoops for Hope is a partnership we joined in with our treatment community and our recovery community. It was a no-brainer when Angel Traynor came in and asked, 'What do you think of this [idea]?' And we were like wow, let's do it."
Angel Traynor, who works with both Serenity Sistas and Recovery Anne Arundel, said, "I'm the coordinator of Recovery Anne Arundel…but I don't do it alone. I have a team that works with me. If it were not for that team, none of this would come about."
Ben Birge, the chief administrative officer for Anne Arundel County, represented County Executive Steuart Pittman at the game.
"[Pittman] based his entire campaign and administration on building and strengthening communities," Birge explained.
"And there are similar programs to this available all over the county," he added. "There's a youth athletic program which connects kids to the police department to open up communication. The police department has a wonderful connection with our immigrant community. And having communication with our communities in need of treatment, this is all a part of a proactive effort not only to drive crime down but addictions as well."
After winning this year's trophy, Colvin celebrated with his teammates and said, "It was a great game."
Debbie Kane, Recovery Anne Arundel, added, "It's great to see people who were once arrested or incarcerated play against the people who once arrested or incarcerated them. Anybody can have hope."
AACC men's basketball head coach, Joe Snowden agreed: "I came to support them because it's basketball and it's a good cause."