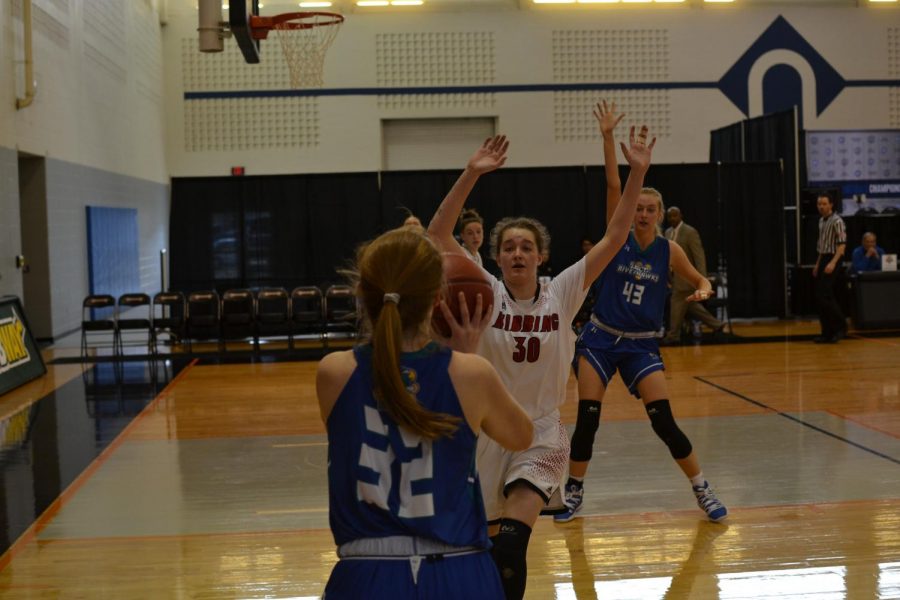 After a tough loss to Hostos Community College in the first round of the NJCAA Division III National Tournament on Thursday, AACC Women's Basketball lost to Hibbing Community College on Friday with a score of 100-60.
Hostos, the defending champion, will play in this year's championship game on Saturday against Owens Community College.
The Friday game was the Riverhawks' first in the eight-team tournament's consolation bracket, in which the four teams that lost during the first round competed against each other for a ranking of fifth place. AACC will play its second and final game in that bracket on Saturday at noon against University of Connecticut: Avery Point.
Women's Basketball coach Lionel Makell said the team had to change its game plan on Friday to accommodate for Hibbing's good outside shooters.
"Now we had to spread out a little bit, play a little man[-to-man]," Makell said.
Caitlyn Stanbery, a guard and first-year nursing student, said she felt the Riverhawks could handle the Cardinals but the team ended up having a slow start.
"I felt like the whole time we could run this team," Stanbery said. "We came out a little flat-footed, but over the course of the game we picked it up."
The Riverhawks led the game in rebounds with a total of 57. First-year center Sarah Healy led the game with 18 rebounds and 17 points.
Hannah Lieb, a second-year guard and sports management student, supported the team defensively with eight rebounds and two blocked shots. Lieb said her skill comes from the support of her teammates.
"When I first came in, I'd never … played an organized sport before," Lieb said. "[Guard] Marcy [Augustin] has helped a lot with me skill-wise. The other teammates … we all meshed well this year."
Lacey Hinkle, a forward and first-year pre-med student, led the team offensively with 19 points, including three, 3-point shots.
Hinkle said the team's approach involved "closing out on the shooter as best you can, being aware of where the ball is and just hustling to get the rebound."
Karley Haensler, a forward and second-year transfer studies student, said she focused on moving quickly and supporting her teammates, despite coming off a sprained ankle injury.
"I knew I wasn't really able to capitalize on my game how I wanted to, so I wanted my teammates to be able to capitalize on theirs," Haensler said.