Backstage with Romeo and Juliet: Leads Discuss Life as Student Actors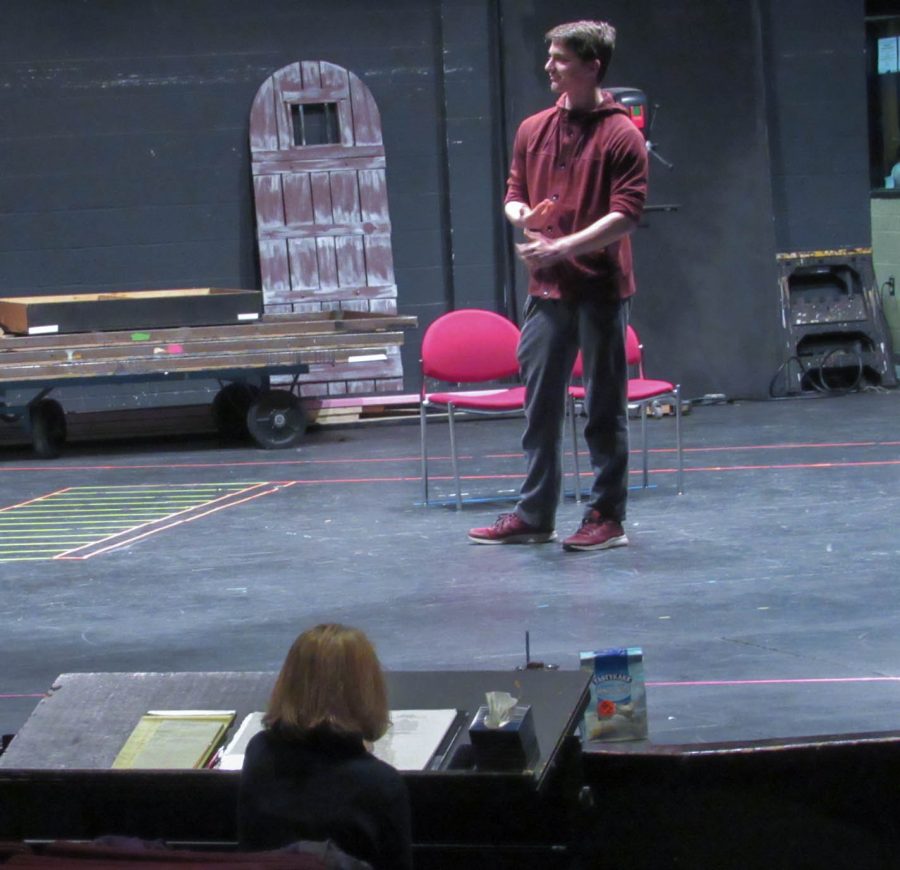 Katie Lambert, a second-year theater student, and Jack Venton, an AACC alumnus, recently sat down with the Campus Current to discuss balancing work, academics, and acting.
Venton and Lambert were each cast as "Romeo" and "Juliet," respectively, in the upcoming spring play.
Lambert is excited about the new production and feels the audience will look forward to seeing the director's take on the chemistry between Romeo and his friends as well.
"They're funny," Lambert said. "I think the actors get along great and have this great friend chemistry. So for me sitting there in rehearsal watching them, it's entertaining."
Venton felt comfortable emphasizing this aspect of his character.
"My mother always talked about Romeo's relationship with his friends," he said. "I like to draw on my personal experience a little and [as Romeo] I try to joke around with Benvolio and Mercutio like the same way I would joke around with my friends."
Venton said while he watched rehearsals, there were things about Juliet's character that he hadn't noticed previously as well.
"I didn't pay too much thought to her relationship with Lord Capulet, her father, before. He plays an interesting role considering that he tries to force her into marriage," Venton laughed. "It adds a new section of pressure that Juliet has to deal with as well. He's very domineering."
"He and the nurse kind of balance each other out like that," he added. "Probably the only people that seem to be on Juliet's side are the nurse, Romeo, and maybe the Friar, too. But that doesn't necessarily turn out well."
Both Venton and Lambert are experienced actors, but this is Lambert's first time working stage crew as well. She said the experience has been "tiring."
"It's a lot of running because you have to get a lot of hours in," she explained. "But it makes me appreciate the fact that I have chosen to be an actor and not crew!"
She said she now appreciates all of the hard work that the crew does. Lambert also said she now understands a comment the director, Dr. AnneMarie Sanders, made previously.
"Last semester when we were doing 'Hairspray,' she said, 'You've got to see the production as a pie, and you're seeing just a quarter — an eighth of it — as actors'," Lambert recalled. "'You don't see everything else that is going on.'"
Lambert said that balancing being a student, a lead actor, a crew member and an employee can be difficult.
"This week has been rough," she laughed. "But you really just have to prioritize everything and make sure you're getting sleep. Because if you don't have sleep and you don't have your health, then everything is going to suck."
Venton agreed but also added that it helps him to choose jobs with a flexible schedule.
"Ideally, morning-centered jobs are better," he explained. "Because theater typically takes place in the evenings. But if you can get something that is flexible, that is the ideal."
While Venton is not working as stage crew for this performance, he has in the past.
"I've done it before in my career," he explained. "In a production of 'Little Women,' I was in a minor role in the cast, but I mostly did stage crew work."
"It definitely helps to have a smaller role [when also working as crew]," he added. "There was one where I had to play somebody's servant… It was lighter on the mind so I could still focus on my other duties."
Both Venton and Lambert found working and acting in productions challenging, but also exciting.
"I'm scared but at the same time I'm certain that I can do it," Venton said. "That's why I do it."
"Romeo and Juliet" opens April 12.