AACC holds 9th annual Black Male Initiative Summit
AACC students, faculty and community members gathered at the CALT building for the 9th annual Black Male Initiative Summit.
Leon Thomas III, the director of student engagement, organized the event.
The keynote address was delivered by Sadiq Ali, a motivational speaker.
"How can we better ourselves?" Ali asked the attentive group before responding, "Through connection."
He went on to explain concrete ways for attendees to explore themselves and make better connections with others.
"At one point in my life I was not my true and authentic self," Nick Nadeau, a second-year aerospace engineering student said. "When I was I set me free."
"Be comfortable about who you are," Ali encouraged. "Once you know who you are, you have to open up and have a conversation with others.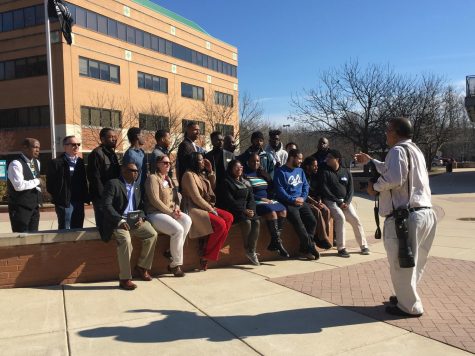 Former AACC student Calvin Davis said for him connection means networking.
"I came from Brooklyn, New York," Davis said. "The drive that encouraged me to come [here] is connection. Networking to me is the same thing as connection. Join a community. I work for the Pentagon. [There] we have a group we call 'Blacks in Government.' Get a group. Get involved."
"I network," he said. "I may be able to help somebody else get into government."
Ali gave other concrete advice to help the audience better connect with themselves.
"I strongly recommend you get yourself a journal," he said. "That's a cool way for me to connect the dots about what I'm really passionate about and what my next move is."
"Because who has the answers?" He asked the crowd. "We have the answers."
Trevor McGriff, a second-year human services student, said the event inspired him.
"I was one of those [people] who was feeling kind of lonely. After hearing that someone else could understand me, I definitely felt [less] lonely. It truly inspired me," he said.
After the event, Ali stated, "I was blown away by the level of questions."
He added that one of his goals for speaking at the event was for "audience members to feel that they have all tools available to do amazing things. All I'm here to do is remind them."
James Vinson, Jr., a Paralegal Studies major, stated this was his first time attending the event.
"I'm glad I decided to make a decision to come here," he said. "Mr. Sadiq [Ali] gave me another perspective on life. Everything he discussed was helpful."