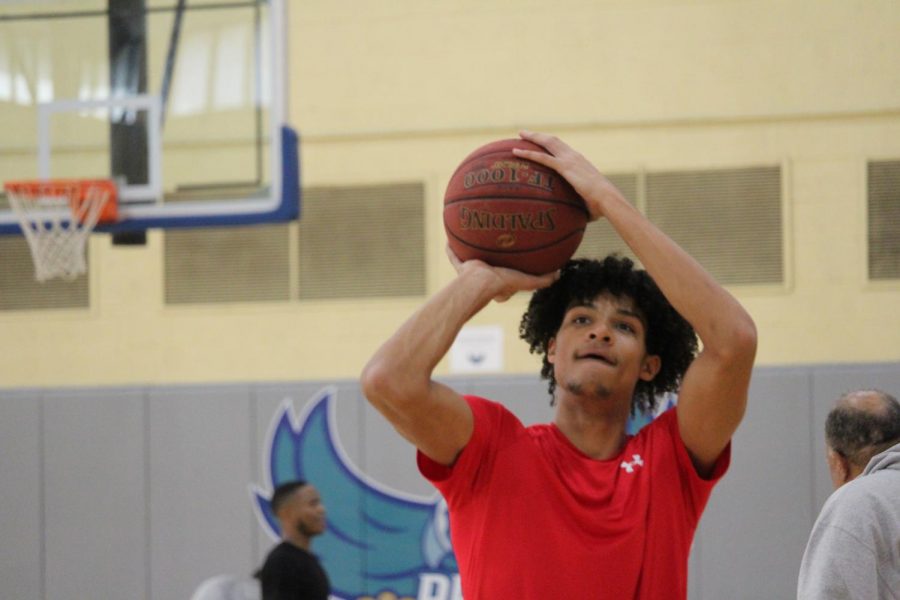 Justin Baker
AACC's Men's and Women's Basketball players said they look forward to the upcoming season after winning pre-season scrimmages in October.
Men's Basketball won a scrimmage against Delaware State University, 91-67, on Oct. 13, while Women's Basketball won against Delaware Technical Community College, 50-47, on the same day.
"The guys played well start to finish," Men's Basketball coach Joe Snowden said. "They played really well together."
Women's Basketball coach Lionel Mackell said he is pleased with his team's performance, saying the women showed a lot of hustle and perseverance.
"Across the board, there's a lot of talent on both teams," Athletics Director Duane Herr said.
The players agreed.
"We got a lot of hungry guys who are all competitive and bring a unique piece to the table," said forward Jacoby Rojas, a second-year transfer studies student who returned for a second season with the Riverhawks. "A lot of the teams this year are good, but we have the team chemistry."
Second-year player Deondre McNeill, who took a break last year from the team to focus on his education, is back for a second season with the Riverhawks.
"We looked really good in the scrimmage," the 5-foot-8-inch center said. "This season so far is already looking better than last year."
The Women's Basketball coach said his team has shown promise during practices and an early scrimmage.
"We have a lot of great freshmen and transfers," Mackell said. "We have a great inside game."
Sophomore Marcy Augustine, who is a guard for the second year, agreed. "Our first scrimmage was a big confidence booster," she said.
Guard Karley Haensler, who transferred to AACC this semester from Baltimore City Community College, said the scrimmage showed the team that it "meshed together from the beginning. We played really well in the scrimmage."
Both coaches said community college basketball is especially competitive.
The Maryland Junior College Athletic Conference—or JUCO—"has always been loaded for basketball," Snowden said. "That's probably the Maryland JUCO's main sport."
Women's Basketball's regular season will begin Thursday, Nov. 1, with a home game against Sinclair Community College.
Men's Basketball will play their first regular-season game on Wednesday, Nov. 7, against Thaddeus Stevens College of Technology.