Literary magazine wins awards for latest issue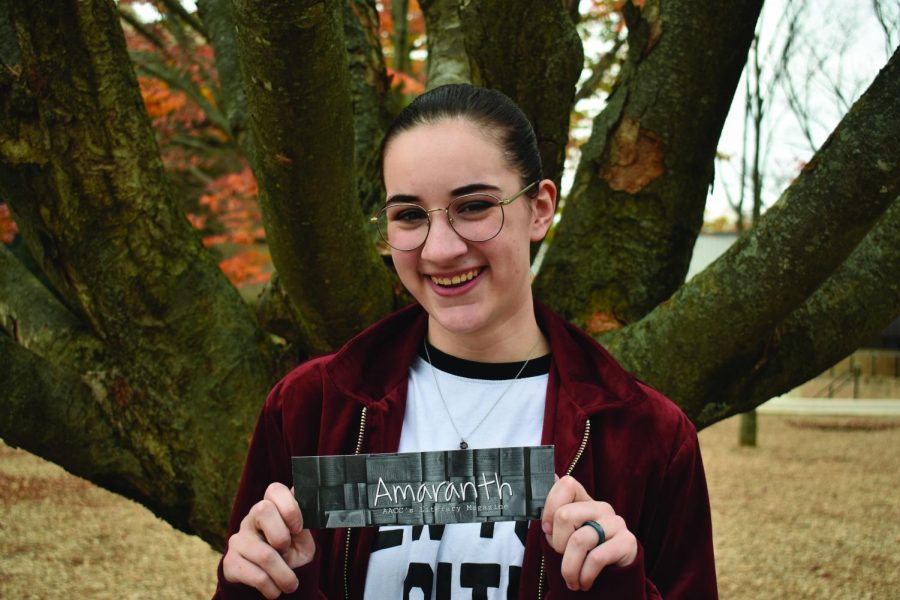 AACC's student literary magazine won two awards in October for last semester's issue.
Amaranth is an annual journal that includes fiction, poetry, creative non-fiction, drama, visual arts and photography by students and alumni of the college.
The latest journal ranked third for the Pinnacle Awards, which the College Media Association gives to the best college print, broadcast and online publications.
Amaranth also took first place in the Eastern region for the Community College Humanities Association contest—a competition that highlights student work from across the nation.
Ren Bishop, a second-year psychology student and editor-in-chief of last year's Amaranth, said winning the awards is more than just an exciting achievement to her.
"We had a lot of work that we weren't expecting," Bishop said. "The fact that everything still came out was amazing. It's not just about me, my officers or the journal. It's everybody that's in it and all the work that went into making the pieces and putting them together."
Jonas Pallaro-Sonneborn, a fourth-year creative writing student and former Amaranth editor-in-chief, said creating the winning issue of the journal inspired him in many ways.
"I love writing," Pallaro-Sonneborn said. "I consider myself a poet [now]. I wasn't before [I joined Amaranth]."
He added: "Amaranth and the creative writing program showed me that I have other talents when it comes to expressing myself. It's a way to feel like I'm doing something important [for] something that I care about."
"I think we've built a culture of professionalism, both at Amaranth and in our creative writing program," said Dr. Garrett Brown, Amaranth's faculty adviser. "We've developed strong writers through our creative writing program and we have a really dedicated student staff."