Campus Current sends cards, papers to troops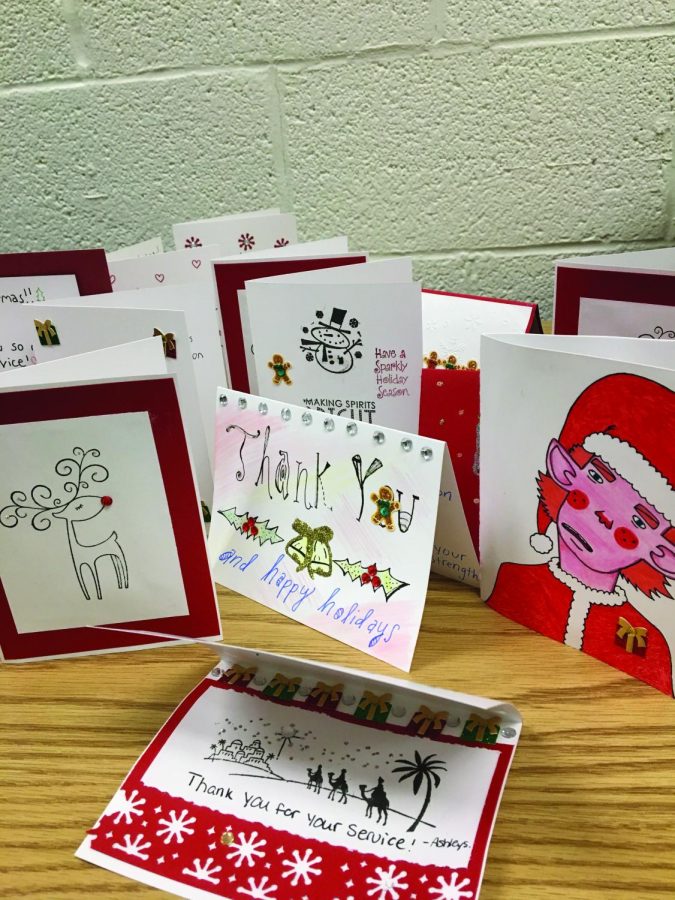 Ashley Sokolowski, Associate Editor
December 4, 2018
Campus Current staff members made holiday cards and care packages before Thanksgiving to send to a military unit in Afghanistan for the holidays.
Eleven student journalists on the newspaper team spent four hours creating  the cards, which they sent to the unit along with copies of Campus Current.
"A lot of people might not recognize soldiers any time of year besides Veterans Day and I think it is important to think about the fact that they might not be with their families," Editor-in-Chief Alexandra Radovic, a third-year education student, said.
Two men in the unit that will receive the cards live in Anne Arundel County.
The club also put together care packages including beef jerky, toiletries, gum, candy and holiday lights.
"I think the holiday season is an important time to show your thanks to people in non-material ways," Radovic said.
Each of the cards had its own unique hand-made design and a handwritten note of thanks to those who protect the country.
"I think that it is a great way to get the club together at a peaceful time and a peaceful season," Campus Current Advertising Manager Alayshia Florida, a second-year nursing student, said. "This is our way of saying thanks."
Newspaper Faculty Adviser Sharon O'Malley said it was "beautiful" to see a more creative side to the students she spends so much time working alongside with in the newsroom.
"We are very campus-centric with Campus Current and here's something that we can do to reach to the greater community and to reach out to servicemen and women who are fighting for the protection of freedom of speech … freedom of the press … all of the things that journalists hold so dear," O'Malley said. "I feel so happy that we are able to thank them in this way."