The New AIDS
More than 870 people have been killed by Ebola in the country of Liberia since January, according to the World Health Organization as of Aug. 31.
About 1841 probable and suspected cases have been diagnosed since January. With reports of many citizens of Liberia constantly avoiding medical attention and remaining unattended to, it is hard for health authorities to pinpoint an exact number of cases.
The staff of the Campus Current, AACC's independent newspaper will be sponsoring a benefit talent concert to raise both awareness and funds for Lofa County, Liberia on Oct. 3 from 8 to 10 p.m.
There has been about 3,685 cases reported from West Africa since Aug. 31 according to The World Health Organization. The W.H.O estimates that about 20,000 more lives will be taken before the virus' spread is stopped.
Liberia is one of the five western nations out of Africa's 54 countries infected by the Ebola virus disease. Liberia is located in Western Africa and is the only African nation in 1820 that was not colonized by a European nation but rather by freed African American slaves.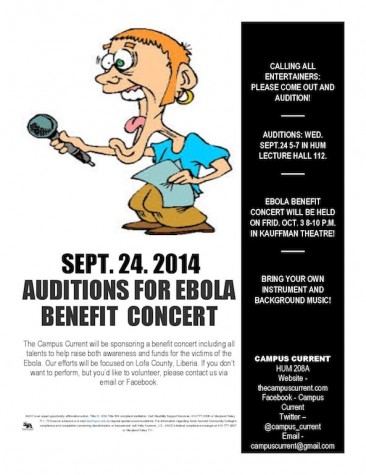 The Ebola virus is a severe disease with a fatality rate of up to 90 percent according to the Center for Disease Control. Ebola is very much similar to HIV and AIDs in that it is transmitted through human-to-human contact with blood or bodily fluids.
The symptoms of the Ebola virus can begin anywhere from two days to three weeks once the disease is contracted. Its symptoms from its earlier stages are similar to that of the flu ranging from fever, sore throat, muscle pain and headaches. In its more advanced stages, the symptoms elevate to vomiting, diarrhea, rash, decreased function of the liver and kidney as well as internal and external bleeding.
"The number one reason why the virus is so hard to get under control in Liberia is because of the state of the health care delivery system." Said Dr. Benedict B. Kolee, chief medical officer of Jackson Fiah Doe Memorial R.R Hospital in Nimba County, Liberia in an email interview.
Because of the country's economic and educational systems, the many of the health workers do not have access or sometimes knowledge of how to appropriately practice standard precautions.
"Simple things like gloves, goggles, masks, disposable gowns are not available in most Liberian hospitals," Kolee explained.
The Campus Current staff is trying to raise awareness as well as funds to donate to BAFFA, Bolahun Alumni Family Friends Association, a non-profit organization of Liberians who reside in America. "They were not convinced of the severity of this illness from the very beginning."
Other reasons include, "traditional beliefs that make people to bathe the dead, kiss the dead, and plait the dead's hair," said Kolee. "When a person dies of Ebola, the corpse can carry the disease for up to six weeks," he explained.
Through efforts to both raise awareness and funds, the Campus Current will be holding auditions on Sept. 24 from 5 to 7 p.m. for a variety of talents including but not limited to, musicians, artists, speed painters, dancers or drawers, poets, actors unicyclists et cetera. The benefit concert will be held on Oct. 3 from 8 to 10 p.m. in the Kauffman Theatre.
If you or anyone you know is interested in helping the victims of Ebola in Liberia, please come out and support our efforts. Like us on Facebook at Campus Current, follow us on Twitter @campus_current and check out our website at thecampuscurrent.com for detailed information. If you are interested in volunteering at the benefit concert, like us on Facebook and send us a message.