College to change Accuplacer
The college will have a new version of the Accuplacer placement test next fall, and will accept the GED as a way to place students into math and English classes.
According to Dean of College Transitions Deneen Dangerfield, College Board is changing the content of the classic Accuplacer test to create the Next-Generation Accuplacer, which will replace the existing one on Jan. 29.
Additionally, the English Department may begin accepting a writing sample to replace the score a student earns on the English portion of the new Next-Generation Accuplacer and help determine which first-year English courses the student should enroll in.
Dave Meng, department chair for English and Communications, said the writing sample would consist of a short essay that will be a "much better way" to place students, he said.
AACC traditionally has relied on the Accuplacer test to determine whether students need to take non-credit developmental English and math classes before enrolling in credit sections of those subjects.
According to Dangerfield, students who placed into classes using the classic Accuplacer will not have to take the new one.
Dangerfield said the new Accuplacer will mimic an SAT.
She said the new test will better correlate with the course pathways AACC offers within its field of interest program, and will ensure that students don't end up taking unnecessary developmental math or English courses.
She said students will need to meet with an adviser after taking the new Accuplacer to make sure they place in the correct math and English classes for their major or field of interest.
Dangerfield said although incoming students next fall may need to take the Next-Generation Accuplacer test, certain SAT and ACT scores, or a GED, could qualify them to skip it.
Regardless of the changes, some students reported that they don't believe the Accuplacer is an accurate way to measure students' true intelligence.
"I am a really good test taker, so maybe you can get a good score without really knowing [the material]," first-year student Braden Huntoon said.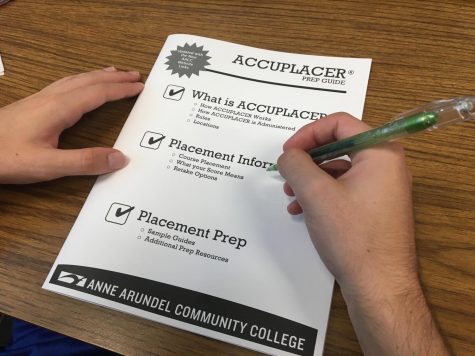 "I have friends who bombed the Accuplacer, but are really good students in class," second-year business student Caleb Patrick said.