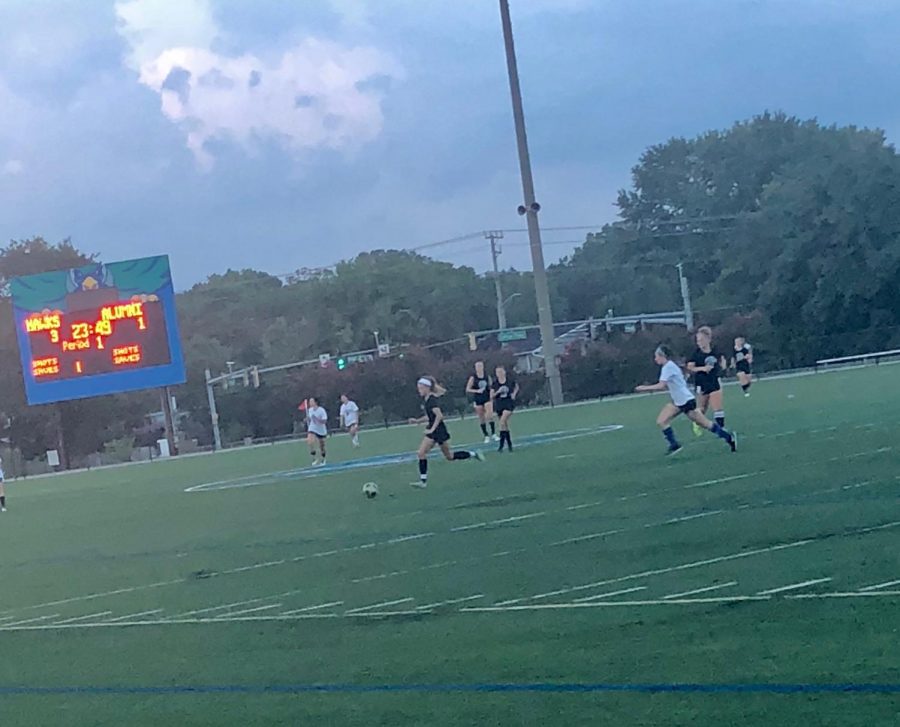 Photo by Brady Reilly
AACC Women's Soccer played an alumni team in a scrimmage match on Thursday night.
The campus team won 5-1.
Hannah Lieb, a first-year goalie, had three saves to keep the Riverhawks ahead by two goals going into half time.
"The potential is there," head coach Karin Victorio said. "We could be a little stronger in some areas. But, [we're] looking about as good as last year."
The Riverhawks posted a 9-5-1 record in the 2017 season.
Victorio said she is satisfied with the team, and so did the players.
"We definitely have strong individual players; as soon as we click, we're going to be a really incredible team," said Reyna Bocanegra, a second-year midfielder engineering student.
Victorio also had high praise for her returning players.
"Our returners are really setting the tone in practice," she said. "They're carrying the traditions of hard work and fast-paced practices over to the first-year players."
"We have a lot of really good freshman this year," Bocanegra said. "They picked up on our communication skills very fast and are very vocal on the field. Everyone is meshing really well."
The alumni match "was a game of fun, intended to bring the alumni back to support the current team and remain supportive of the program in general," Duane Herr, AACC athletics director, said.
Women's Soccer will travel to CCBC Essex on Saturday to take on the Knights. Game time is set for noon.
Editor's Note: This article has been changed from the original to correct some errors.