College, former admin settle gender lawsuit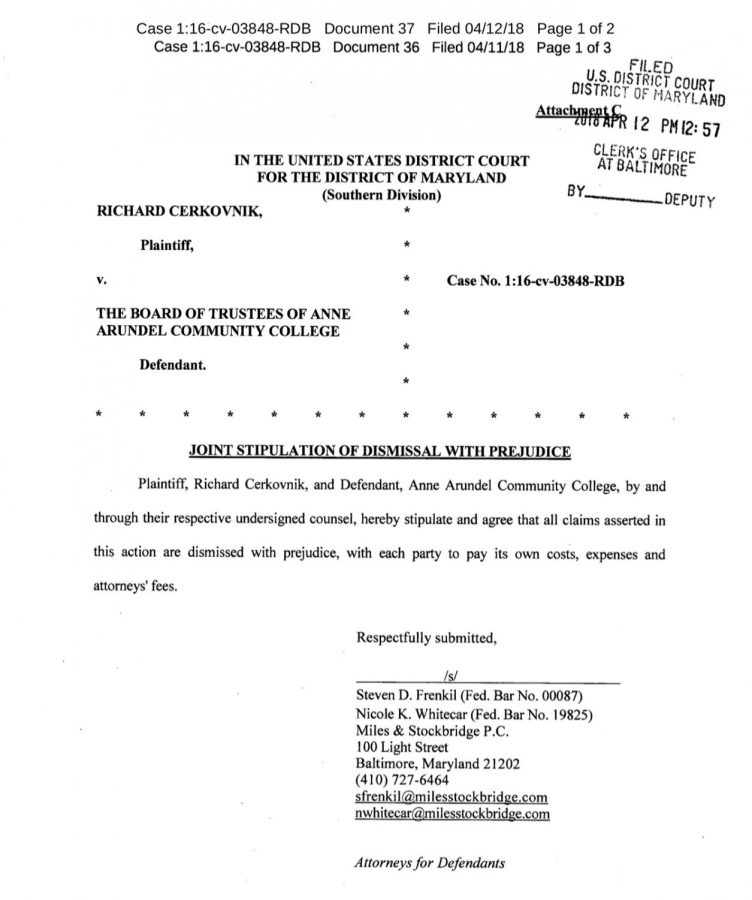 AACC and a former administrator in April settled a lawsuit claiming the college discriminated against him because he was a man.
A U.S. District Court judge on April 11 dismissed the lawsuit because the two parties settled. The court order is final because it forbids the accuser from filing another case about the same complaint.
Dr. Richard Cerkovnik, a former special assistant to the vice president for learning and the former chair of the Physical Science Department, sued the college's Board of Trustees in November 2016 for nearly $2.4 million.
He claimed in the suit that AACC passed him over for a promotion because of his gender, and then assigned him too much work.
In the lawsuit, Cerkovnik said the college's "preference for only female leaders resulted in [his] being denied promotions based solely on his gender."
Cerkovnik also claimed in the document that "less-qualified white female candidates" were appointed to higher positions he had also applied for.
According to the complaint, AACC administrators also refused to relieve Cerkovnik of his other duties when he became leader of the National STEM Consortium, a 10-community-college alliance that advocates for science, technology, engineering and math education—despite a requirement connected to a federal grant the college receives.
Cerkovnik, who is now the director of the Montgomery College STEM Initiative, worked at AACC from 1989 until 2015.
AACC's lawyers declined to comment, and neither Cerkovnik nor his lawyers returned requests for comment.