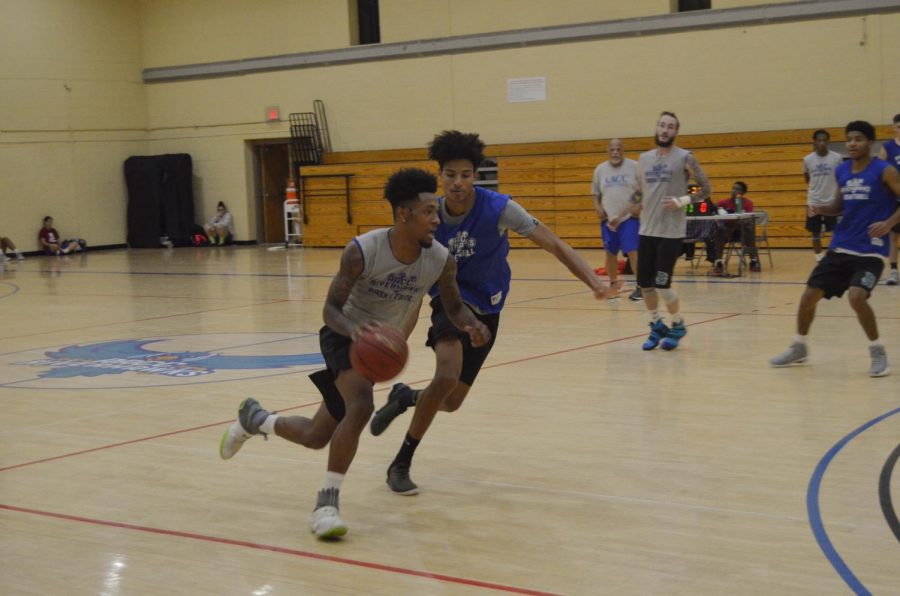 Photo by Brandon Hamilton
Men's basketball is starting their 2017-2018 season in a couple of weeks and the team said the company is ready to "take flight."
Third-year head coach, Joseph Snowden said he is ready with a brand new team practically.
"Right now [the team is] young, very young and I'm excited because we have quickness," Snowden said.
Snowden said that this is the first time nine of the members have played in the Maryland Junior College Athletic Conference.  He also mentioned that three of his players never played basketball in high school but are "good athletes."
"I'm hoping that each game they will get better and better," Snowden said.
Captains Miles Dobson and Clint Smith said they are ready for the season.
Dobson was a starter last year and Smith was a redshirt.  A redshirt is a college athlete who is withdrawn from a college sporting event during a year to develop their skills.
"It was a good learning experience for sure [when I first played last year]," Dobson said. "It's all about coming together as one. "
Dobson said he looks forward to winning and seeing how far the team can go.
Smith said he also looking forward to the season.
"We need to trust one another and have more heart than the other team," Smith said. "I'm looking forward to winning games and bonding and coming together as one [team]."
The team was 6-15 last season.
The team plays their first home game on Nov. 15 against CCBC Dundalk at 5:00 P.M.