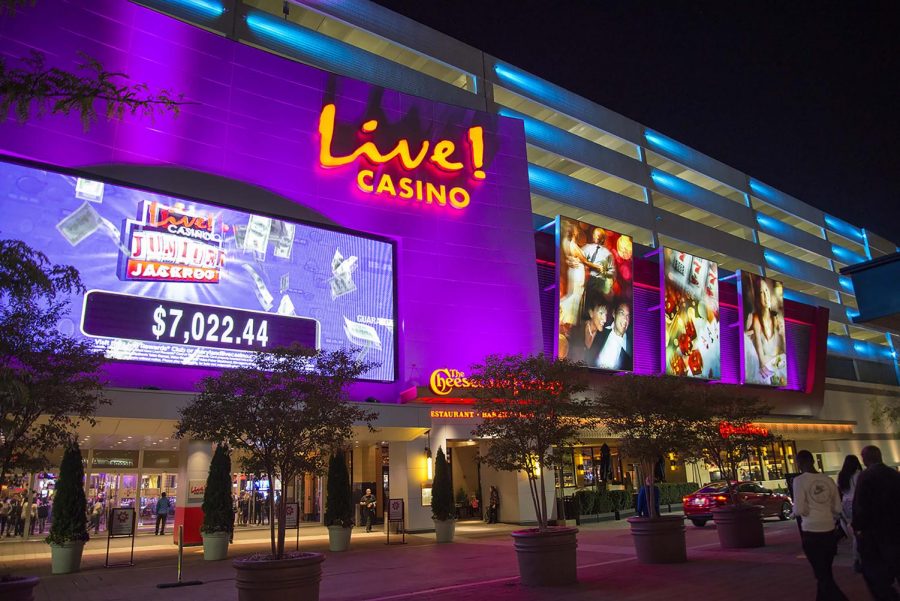 Photo by Jessica Osband
The AACC Foundation welcomed 270 patrons and raised about $100,000 at its fifth annual All In fundraiser hosted by Maryland LIVE! Casino on October 12th.
The foundation office said in an email that All In contributed more than $500,000 over the last five years.  And of $8.3 million in total gifts raised during that same period, $7 million went to the college's scholarship endowment and $1.3 million supported collegiate program enrichment.
Both the office and Dr. Dawn Lindsay, president of AACC said 100 percent of proceeds went to student needs.
"We're very excited.  I think this is our best [fundraiser] yet," Lindsay said.  "Tonight's really all about raising scholarships for our students.  That's what this event is for."
A pamphlet released by the foundation office said 806 students received a total of $890,000 in scholarship funds in 2017.
Scholarship recipients were invited to the event.
Second-year elementary special education major, Ashley Schultz was invited to attend the event as one of 30 other scholarship recipients.
Shultz works full-time as a teaching assistant for special needs children in the Anne Arundel County Public School District, but said she wanted to continue her education and tailor it to the population she most wants to serve.
"For special educators, they make you find your content.  And for me I'm more interested in the students who have the severe learning disabilities."
Kayla Warner, a second-semester nursing student, said she is using her scholarship to continue her health care career."I went to a trade school for medical assisting.  And then from there I decided to get my feet into nursing."
Warner said her goal was to study neurology and that she "love[s] the challenge" of AACC's program.
AACC Foundation also works to support non-academic college programs.
Duane Herr, AACC's athletic director, said he and his wife Amber, an AACC graduate and adjunct health professor at the college, try to attend the All In event every year "to show support for what they do for our students."
"The foundation donated quite a bit of money for our new uniforms," Herr said
AACC's foundation also awarded scholarships to students in non-credit continuing education programs.
First-year English as a Second Language student Nicole Andrews said she taught English at a community center in Connecticut 10 years ago, but now wants to earn her ESL certification to teach in Maryland.
Andrews said she wanted to "find a way to make money doing something she loved," and was "excited" AACC awarded her a scholarship to the ESL program.
"To see your students' comprehension go from no English or just a little English to seeing the impact that the program has on people's lives is just amazing."
Michael Smith, the college's Business of Music instructor, also said he sees the benefit of AACC's non-credit offerings.
"I realized there was a gap in education for people in the music industry… Many people feel that if they enter the music industry and perform at a few shows, or maybe put out a video, they'll get picked up.  But there's a lot more to it than that."
Smith said he feels non-credit courses like his also help the college by introducing people to AACC who may not otherwise be interested in academics.
"For someone who maybe did not want a degree but just wanted to do music, they have an opportunity to take this non-credit course.  And as they learn about the music industry, they get to learn about the school."
Donors at this year's All In event also gave close to $11,000 to support the college's Helplink Grant which supports students with emergency financial issues by giving assistance for critical needs, according to AACC's website.
"I think students need to understand that there is support for them to attain their education… So really, really look," Lindsay said.  "There is specific support and financial backing for ongoing college costs.  [They need] to look at our scholarship programs to see how we can help them."