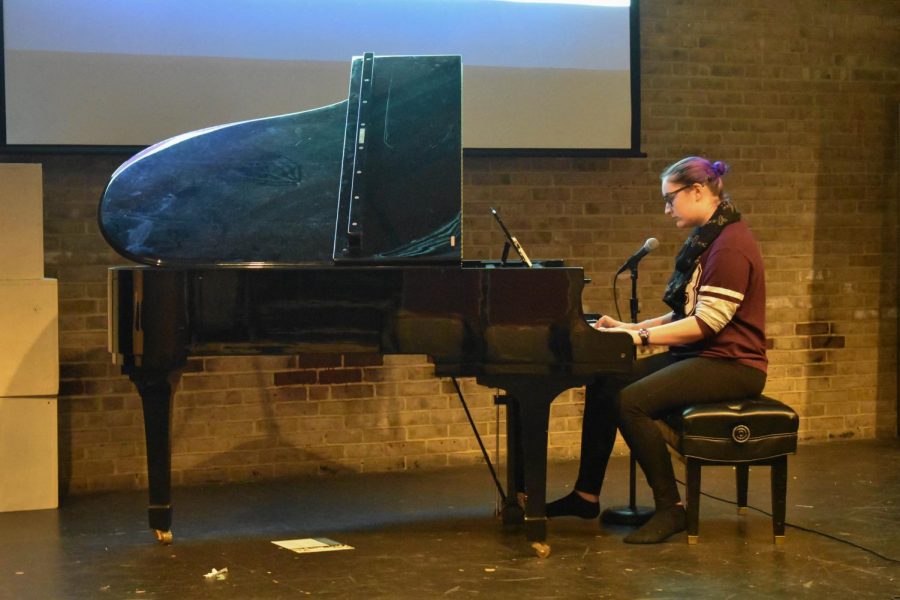 Photo by Daniel Soloman
For the second month in a row Amaranth's coffee house has a full lineup on Oct. 18.
This month there were seventeen performances, performances ranged from poets, musicians, singers, novelists, and a comedian.
"The performances tonight where very lively and very interesting, and I'm so glad that we can get so many people to show up and perform," said host and Amaranth publicity manager Rebecca Cohn.
"I really loved it. We had a really good turn out, and some of the people did some really cool things that we don't get to see that often," Ren Bishop, Amaranth's Editor-in-chief said.  "It's really interesting to see the talent that we have in AACC that not a lot of people get to share that often. I love performing in this space. It's super excepting, and lovely, and wonderful, and supportive."
Daniel Nickerson, first-year transfer student, who performed spoken word poetry said, "I always feel a little bit shaky, but proud that I was able to get up there and perform."
Amaranth is AACC's annually published journal of literature and the arts. They publish fiction, poetry, creative nonfiction, drama, visual art & photography.
Coffee house is held on the third Wednesday of every month in Humanities room 112 from 7-9p.m.
The next open mic will take place on Nov. 15.